E-Brochure
Luxury Yacht Vacation Details
---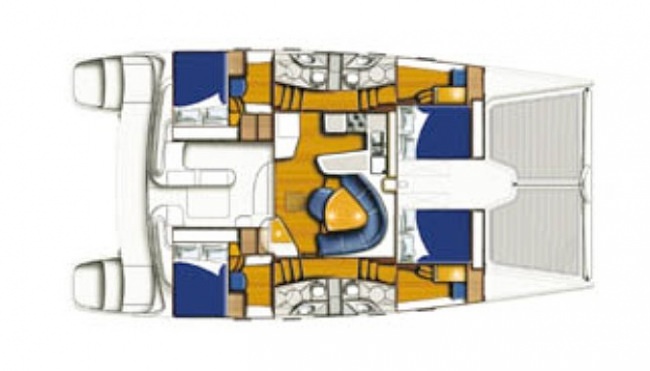 Boat Details
| | |
| --- | --- |
| Cabins: | 4 |
| Queen: | 3 |
| Single Cabins: | 1 |
| Showers: | 4 |
| Wash Basins: | 4 |
| Heads: | 4 |
| Electric Heads: | 3 |
Array ( [details] => Array ( [0] => Array ( [key] => Cabins [value] => 4 ) [1] => Array ( [key] => Queen [value] => 3 ) [2] => Array ( [key] => Single [value] => ) [3] => Array ( [key] => Showers [value] => 4 ) [4] => Array ( [key] => Wash Basins [value] => 4 ) [5] => Array ( [key] => Heads [value] => 4 ) [6] => Array ( [key] => Electric Heads [value] => 3 ) ) )
Pick Up Locations
| | |
| --- | --- |
| Pref. Pick-up: | Red Hook |
| Other Pick-up: | West End |
---
Details
| | |
| --- | --- |
| Refit: | 2015 |
| Helipad: | No |
| Jacuzzi: | No |
| A/C: | Full |
Engine Details
Westerbeak Generator 7.5KW
Fuel Consumption:
-
Cruising Speed:
6.5 kts
Max Speed:
8 kts Knots
Locations
| | |
| --- | --- |
| Winter Area: | Caribbean Virgin Islands, Caribbean Leewards, Caribbean Windwards |
| Summer Area: | Caribbean Virgin Islands, Caribbean Leewards, Caribbean Windwards |
---
Amenities
| | |
| --- | --- |
| Salon Tv/VCR: | Yes |
| Salon Stereo: | Yes |
| Sat Tv: | - |
| # of Videos: | |
| # DVDs/Movies: | 75 |
| # CD's: | Bluetooth |
| Camcorder: | Yes |
| Books: | 20 |
| Board Games: | Yes |
| Sun Awning: | Yes |
| Deck Shower: | Yes |
| Bimini: | Yes |
| Water Maker: | No |
| | |
| --- | --- |
| Special Diets: | Yes |
| Kosher: | No |
| BBQ: | Yes |
| # Dine In: | - |
| Minimum Age: | - |
| Generator: | Yes |
| Inverter: | Yes |
| Voltages: | 12v |
| Water Maker: | No |
| Water Cap: | 200 gal |
| Ice Maker: | Yes |
| Sailing Instructions: | No |
| Internet Access: | Onboard WIFI |
| | |
| --- | --- |
| Gay Charters: | Yes |
| Nude: | No |
| Hairdryers: | - |
| # Port Hatches: | 24 |
| Guests Smokes: | No |
| Crew Smokes: | No |
| Pets Aboard: | No |
| Pet Type: | - |
| Guest Pets: | - |
| Children Ok: | Yes |
| Hammock: | Yes |
| Windscoops: | Yes |
---
Water Sports
| | |
| --- | --- |
| Dinghy size: | 13' |
| Dinghy hp: | 60hp |
| Dinghy # pax: | 8 |
| Water Skis Adult: | Yes |
| Water Skis Kids: | Yes |
| Jet Skis: | No |
| Wave Runners: | No |
| Kneeboard: | Yes |
| Windsurfer: | No |
| Snorkel Gear: | 6 |
| Tube: | Yes |
| | |
| --- | --- |
| Scurfer: | No |
| Wake Board: | Yes |
| Kayaks 1 Pax: | Yes |
| Kayaks (2 Pax): | No |
| Floating Mats: | Yes |
| Swim Platform: | Yes |
| Boarding Ladder (Loc/Type): | Yes |
| Sailing Dinghy: | No |
| Beach Games: | Yes |
| Fishing Gear: | Yes |
| Gear Type: | Trolling |
| Rods: | 3 |
Captain Ryan has always lived close to or on the water. Ryan grew up in Michigan on the Great Lakes. This 50 Ton Merchant Mariner has a BA from Michigan State University. He had tried his hand at various business ventures, but the Siren Song of the Virgin Islands kept calling his name. Raised in a suburb of Detroit, Capt Ryan was cruising on his first sailboat by age 10. When Ryan did a Natural Science Study Abroad with MSU the USVI and BVI he knew he found the perfect paradise. Ryan's love of local Ecology and Natural Science always drew him back to these spectacular dormant volcanoes rising out of the sea. Ryan has many other Hobbies & Interests including Traveling, Diving, fishing, Surfing, Building SUP, Woodworking, Drone Flying, Photography, Yeti using, Dancing in flip flops, and just having a blast!!!! Ryan is working on his acquiring his dive masters certification hopefully next season...

Katie is a traveler with a passion for food and people. This year will be her fifth year living out of a backpack and she doesn't plan on moving out of it anytime soon. She's traveled to 12 countries in the past 5 years while hiking, surfing, snowboarding, camping, and, of coarse, eating & cooking. She loves cooking with flavors that highlight the countries she's visited, from traditional fare, to more modern fusion.

Dinner: ​ Mandarin pork roast, mashed potatoes & veggies served with homemade herbed bread & compound butter assortment
Dessert:​ Jamaican Toto (Coconut cake) / vanilla ice cream / caramel & bourbon drizzle Saturday
Breakfast: ​Bacon egg and spinach Benedict served with ripe fruit
​Lunch:​ ​ Black and blue ribeye salad - Blackened ribeye steak, arugula, cherry tomatoes, red onions, blue cheese crumbles and homemade balsamic dressing
Appetizer: ​ Fruit and cheese board: Puff pastry covered triple cream brie atop local jam, Danish blue, Gouda & goat's cheeses topped with balsamic glaze, honey, spiced nuts & dukkah, aside apple slices & flatbread crackers
Dinner:​ Traditional Jamaican jerk chicken, red beans and rice aside callaloo
Dessert:​ Caramel / bourbon / pecan bread pudding, served with vanilla ice cream
Breakfast: ​ French toast topped with fruit compote and maple syrup.
Lunch:​ Grilled white fish / mango coulis / basmati rice
Appetizer:​ House made tomato / basil Bruschetta and caprese salad / balsamic glaze
Dinner:​ Jamaican Jerk fish tacos, pineapple salsa, red cabbage salad
Dessert: P​ineapple crisp / vanilla ice cream / caramel
Breakfast: ​Spinach / bacon and gruyere quiche
Lunch:​ Traditional caribbean goat curry served with paratha roti
Appetizer:​ Seafood, cheese & green onion wontons / spicy soy dipping sauce
Dinner: ​ Grilled white fish / corn polenta / sautéed spinach / red pepper coulis
Dessert: ​Mexican sopapilla cheesecake / honey drizzle
Breakfast:​ Feta cheese, parmesan and veggie frittata / balsamic glaze
Lunch:​ Sephardic spiced fish skewers / tzatziki sauce / basmati rice
Dinner: ​Spinach&artichokedip/paratharoti&crackers
Dessert:​ ​Fruit crumble / vanilla ice cream / caramel
Breakfast: ​Israeli shakshuka served with paratha roti
Lunch: G​rilled white fish over a spinach / bacon salad, served with a perfectly gooey hard-boiled egg
Appetizer:A​sian style pork ribs served with purple cabbage salad
Dinner: S​hrimp​ ​scampi / angel hair pasta / veggies / buttery white wine & lemon sauce / homemade focaccia
Dessert: ​Angel food cake / fruit compote / sliced almonds.
Breakfast: ​Mexican sausage, veggie and tortilla strata served with sour cream
Lunch: C​uban sandwich / pickle / spicy potato wedges
Appetizer: F​ried plantains / spicy aioli
Dinner: ​ Shrimp, sausage and rice Jambalaya
Dessert: ​Individual cheesecake / berry compote
Breakfast: ​Biscuits and gravy or goat's cheese, veggie and bacon frittata
Snack: ​Tomato, black bean and avocado salsa / blue corn chips
(15 December -30 April)
Caribbean Virgin Islands, Caribbean Leewards, Caribbean Windwards
(1 May - 14 December)
Caribbean Virgin Islands, Caribbean Leewards, Caribbean Windwards
| | | | | | | | | | | | | | | | | | | | | | | | | | | | | | | | |
| --- | --- | --- | --- | --- | --- | --- | --- | --- | --- | --- | --- | --- | --- | --- | --- | --- | --- | --- | --- | --- | --- | --- | --- | --- | --- | --- | --- | --- | --- | --- | --- |
| Sep 2019 | 1 | 2 | 3 | 4 | 5 | 6 | 7 | 8 | 9 | 10 | 11 | 12 | 13 | 14 | 15 | 16 | 17 | 18 | 19 | 20 | 21 | 22 | 23 | 24 | 25 | 26 | 27 | 28 | 29 | 30 | |
| Oct 2019 | 1 | 2 | 3 | 4 | 5 | 6 | 7 | 8 | 9 | 10 | 11 | 12 | 13 | 14 | 15 | 16 | 17 | 18 | 19 | 20 | 21 | 22 | 23 | 24 | 25 | 26 | 27 | 28 | 29 | 30 | 31 |
| Nov 2019 | 1 | 2 | 3 | 4 | 5 | 6 | 7 | 8 | 9 | 10 | 11 | 12 | 13 | 14 | 15 | 16 | 17 | 18 | 19 | 20 | 21 | 22 | 23 | 24 | 25 | 26 | 27 | 28 | 29 | 30 | |
| Dec 2019 | 1 | 2 | 3 | 4 | 5 | 6 | 7 | 8 | 9 | 10 | 11 | 12 | 13 | 14 | 15 | 16 | 17 | 18 | 19 | 20 | 21 | 22 | 23 | 24 | 25 | 26 | 27 | 28 | 29 | 30 | 31 |
| Jan 2020 | 1 | 2 | 3 | 4 | 5 | 6 | 7 | 8 | 9 | 10 | 11 | 12 | 13 | 14 | 15 | 16 | 17 | 18 | 19 | 20 | 21 | 22 | 23 | 24 | 25 | 26 | 27 | 28 | 29 | 30 | 31 |
| Feb 2020 | 1 | 2 | 3 | 4 | 5 | 6 | 7 | 8 | 9 | 10 | 11 | 12 | 13 | 14 | 15 | 16 | 17 | 18 | 19 | 20 | 21 | 22 | 23 | 24 | 25 | 26 | 27 | 28 | 29 | | |
| Mar 2020 | 1 | 2 | 3 | 4 | 5 | 6 | 7 | 8 | 9 | 10 | 11 | 12 | 13 | 14 | 15 | 16 | 17 | 18 | 19 | 20 | 21 | 22 | 23 | 24 | 25 | 26 | 27 | 28 | 29 | 30 | 31 |
| Apr 2020 | 1 | 2 | 3 | 4 | 5 | 6 | 7 | 8 | 9 | 10 | 11 | 12 | 13 | 14 | 15 | 16 | 17 | 18 | 19 | 20 | 21 | 22 | 23 | 24 | 25 | 26 | 27 | 28 | 29 | 30 | |
| May 2020 | 1 | 2 | 3 | 4 | 5 | 6 | 7 | 8 | 9 | 10 | 11 | 12 | 13 | 14 | 15 | 16 | 17 | 18 | 19 | 20 | 21 | 22 | 23 | 24 | 25 | 26 | 27 | 28 | 29 | 30 | 31 |
| Jun 2020 | 1 | 2 | 3 | 4 | 5 | 6 | 7 | 8 | 9 | 10 | 11 | 12 | 13 | 14 | 15 | 16 | 17 | 18 | 19 | 20 | 21 | 22 | 23 | 24 | 25 | 26 | 27 | 28 | 29 | 30 | |
| Jul 2020 | 1 | 2 | 3 | 4 | 5 | 6 | 7 | 8 | 9 | 10 | 11 | 12 | 13 | 14 | 15 | 16 | 17 | 18 | 19 | 20 | 21 | 22 | 23 | 24 | 25 | 26 | 27 | 28 | 29 | 30 | 31 |
| Aug 2020 | 1 | 2 | 3 | 4 | 5 | 6 | 7 | 8 | 9 | 10 | 11 | 12 | 13 | 14 | 15 | 16 | 17 | 18 | 19 | 20 | 21 | 22 | 23 | 24 | 25 | 26 | 27 | 28 | 29 | 30 | 31 |
---