E-Brochure
Luxury Yacht Vacation Details
---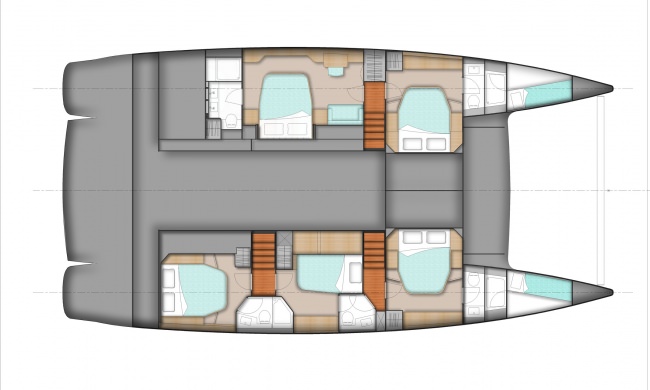 Boat Details
| | |
| --- | --- |
| Cabins: | 4 |
| Queen: | 4 |
| Single Cabins: | 1 |
| Showers: | 4 |
| Wash Basins: | 4 |
| Heads: | 4 |
| Electric Heads: | 4 |
Array ( [details] => Array ( [0] => Array ( [key] => Cabins [value] => 4 ) [1] => Array ( [key] => Queen [value] => 4 ) [2] => Array ( [key] => Single [value] => ) [3] => Array ( [key] => Showers [value] => 4 ) [4] => Array ( [key] => Wash Basins [value] => 4 ) [5] => Array ( [key] => Heads [value] => 4 ) [6] => Array ( [key] => Electric Heads [value] => 4 ) ) )
Pick Up Locations
| | |
| --- | --- |
| Pref. Pick-up: | Tortola, BVI |
| Other Pick-up: | St Thomas/YHG |
---
Details
| | |
| --- | --- |
| Refit: | Annually |
| Helipad: | No |
| Jacuzzi: | No |
| A/C: | Full |
Engine Details
2 X Volvo D3 110 inboard engines - 13.5kw Onan generator - 2 X 6 man Viking Life Rafts - EPIRB system - Iridium Satellite phone - Garmin GPS
Fuel Consumption:
2
Cruising Speed:
8 knots
Max Speed:
10 knots Knots
Locations
| | |
| --- | --- |
| Winter Area: | Caribbean Virgin Islands |
| Summer Area: | Caribbean Virgin Islands, Caribbean Leewards |
---
Amenities
| | |
| --- | --- |
| Salon Tv/VCR: | Yes |
| Salon Stereo: | Yes |
| Sat Tv: | Great Wifi coverage in 95% of BVI areas, available for emailing, facebook and business requirements. Preferable no streaming of music or video's. For important sporting occasions we will do our best to accommodate. |
| # of Videos: | |
| # DVDs/Movies: | yes |
| # CD's: | na |
| Camcorder: | Yes |
| Books: | 12 |
| Board Games: | Yes |
| Sun Awning: | Yes |
| Deck Shower: | Yes |
| Bimini: | Yes |
| Water Maker: | Yes |
| | |
| --- | --- |
| Special Diets: | Yes |
| Kosher: | Yes |
| BBQ: | Yes |
| # Dine In: | yes |
| Minimum Age: | All Kids Welcome! |
| Generator: | Yes-13.5 kwh |
| Inverter: | Yes |
| Voltages: | 220v |
| Water Maker: | Yes |
| Water Cap: | 1000 liters |
| Ice Maker: | Yes |
| Sailing Instructions: | No |
| Internet Access: | Onboard WIFI |
| | |
| --- | --- |
| Gay Charters: | Yes |
| Nude: | Yes |
| Hairdryers: | Yes |
| # Port Hatches: | 17 |
| Guests Smokes: | Only on Aft deck. |
| Crew Smokes: | No |
| Pets Aboard: | No |
| Pet Type: | None |
| Guest Pets: | No |
| Children Ok: | Yes |
| Hammock: | No |
| Windscoops: | No |
---
Water Sports
| | |
| --- | --- |
| Dinghy size: | 14.4ft RIB |
| Dinghy hp: | 70 |
| Dinghy # pax: | 8 |
| Water Skis Adult: | Yes |
| Water Skis Kids: | No |
| Jet Skis: | No |
| Wave Runners: | No |
| Kneeboard: | Yes |
| Windsurfer: | No |
| Snorkel Gear: | 12 |
| Tube: | Yes |
| | |
| --- | --- |
| Scurfer: | No |
| Wake Board: | Yes |
| Kayaks 1 Pax: | No |
| Kayaks (2 Pax): | 2 |
| Floating Mats: | Yes |
| Swim Platform: | Yes |
| Boarding Ladder (Loc/Type): | On Transoms |
| Sailing Dinghy: | No |
| Beach Games: | Yes |
| Fishing Gear: | Yes |
| Gear Type: | Trolling rods & Light rods |
| Rods: | 4 |
Captain Dylan's easy going charm, enthusiasm and passion for life is infectious. With his professional approach and years of experience, this polite captain is ready to provide the ultimate island vacation. Captain Dylan believes that attention to detail and personal touches make all the difference. Dylan offers the highest standard and this is part of what sets him up as a top crew in the Virgin Islands.

Captain Dylan guides you to perfect bays and secret spots, pairing your expectations and his knowledge to make exploring the Virgin Islands all the more enjoyable. Nothing is too much for any of his guests, be that sun tanning on the sky lounge with a cocktail in hand, or getting you involved in sailing Slivochka. Dylan looks forward to making this vacation everything you hope for. Fully qualified and commercially endorsed as a MCA/RYA Yacht Master Offshore 200GT, Dylan has a full STCW and is PADI certified. With this captain, you are in the best possible hands our industry can provide. Both are peoples people, who love children, so families of all sizes are welcome, as are adults and business parties.

Dylan grew up sailing the Indian and Atlantic Oceans with his family, totaling 20 000 NM over six years, having left his home of South Africa at age 6. His interest in sailing, and a life on the water is second nature to him.



Breakfast:
Coconut French Toast
Eggs Benedict served with Canadian Bacon and Creamy Hollandaise Sauce
Blueberry Pancakes
Cinnamon Porridge with Caramel Figs and Cream
Fresh fruit and Yogurt Parfait
English Breakfast
Smoked Salmon and Cream Cheese Bagels
Lunch:
Lemon and Herb Baked Seabass served with a Pineapple and Avocado Salsa
Seared Tuna Salad with Mango, Avocado and a Soy Vinaigrette
Roasted Vegetable and Goats Cheese Tart with a Strawberry Spinach Salad
Steak Tacos served with Mango Chutney and a Greek Salad
Stir Fried Rice Noodles with Ginger, Coriander and Chili
Tropical Honey and Mustard Chicken Salad
Fish Cakes served with an Orange and Watercress Salad
Starters:
Coconut Shrimp with Sweet Chili Sauce
Caprese Salad with Basil Oil
Butternut Ravioli with Roasted Tomato and Olive Sauce
Moules Mariniere served with Fresh Bread
Tuna Tartar
Spinach and Ricotta Parcels
Grilled Asparagus wrapped in Prosciutto
Dinner:
Rack of Lamb with a Mustard Herb Crust, Mediterranean Vegetable Tian and Sauté Potatoes
Honey Roasted Duck Breast with a Madeira Jus, Dauphinoise Potatoes and Green Beans
Thai Red Curry served with Prawns
Macadamia Crusted Mahi Mahi served with Coconut Rice and Caramelised Plantains
Grilled Lobster with a Lemon Herb Butter, Creamy Mashed Potatoes and Sauté Asparagus
Beef Filet with Café Paris Butter, Rosemary Roasted Potatoes and Honeyed Carrots
Pan Fried Scallops and Mushrooms with a Truffle Cream Sauce and Butternut Puree
Dessert:
White Chocolate Cheesecake
Chocolate Fondant with Homemade Vanilla Custard
Rum Fudge Pie
Marula Honey Crème Brulee
Dark Chocolate Pots
Panna Cotta with Caramelised Figs
Toffee Banana Crumble
(15 December -30 April)
Caribbean Virgin Islands
(1 May - 14 December)
Caribbean Virgin Islands, Caribbean Leewards
| | | | | | | | | | | | | | | | | | | | | | | | | | | | | | | | |
| --- | --- | --- | --- | --- | --- | --- | --- | --- | --- | --- | --- | --- | --- | --- | --- | --- | --- | --- | --- | --- | --- | --- | --- | --- | --- | --- | --- | --- | --- | --- | --- |
| Jul 2019 | 1 | 2 | 3 | 4 | 5 | 6 | 7 | 8 | 9 | 10 | 11 | 12 | 13 | 14 | 15 | 16 | 17 | 18 | 19 | 20 | 21 | 22 | 23 | 24 | 25 | 26 | 27 | 28 | 29 | 30 | 31 |
| Aug 2019 | 1 | 2 | 3 | 4 | 5 | 6 | 7 | 8 | 9 | 10 | 11 | 12 | 13 | 14 | 15 | 16 | 17 | 18 | 19 | 20 | 21 | 22 | 23 | 24 | 25 | 26 | 27 | 28 | 29 | 30 | 31 |
| Sep 2019 | 1 | 2 | 3 | 4 | 5 | 6 | 7 | 8 | 9 | 10 | 11 | 12 | 13 | 14 | 15 | 16 | 17 | 18 | 19 | 20 | 21 | 22 | 23 | 24 | 25 | 26 | 27 | 28 | 29 | 30 | |
| Oct 2019 | 1 | 2 | 3 | 4 | 5 | 6 | 7 | 8 | 9 | 10 | 11 | 12 | 13 | 14 | 15 | 16 | 17 | 18 | 19 | 20 | 21 | 22 | 23 | 24 | 25 | 26 | 27 | 28 | 29 | 30 | 31 |
| Nov 2019 | 1 | 2 | 3 | 4 | 5 | 6 | 7 | 8 | 9 | 10 | 11 | 12 | 13 | 14 | 15 | 16 | 17 | 18 | 19 | 20 | 21 | 22 | 23 | 24 | 25 | 26 | 27 | 28 | 29 | 30 | |
| Dec 2019 | 1 | 2 | 3 | 4 | 5 | 6 | 7 | 8 | 9 | 10 | 11 | 12 | 13 | 14 | 15 | 16 | 17 | 18 | 19 | 20 | 21 | 22 | 23 | 24 | 25 | 26 | 27 | 28 | 29 | 30 | 31 |
| Jan 2020 | 1 | 2 | 3 | 4 | 5 | 6 | 7 | 8 | 9 | 10 | 11 | 12 | 13 | 14 | 15 | 16 | 17 | 18 | 19 | 20 | 21 | 22 | 23 | 24 | 25 | 26 | 27 | 28 | 29 | 30 | 31 |
| Feb 2020 | 1 | 2 | 3 | 4 | 5 | 6 | 7 | 8 | 9 | 10 | 11 | 12 | 13 | 14 | 15 | 16 | 17 | 18 | 19 | 20 | 21 | 22 | 23 | 24 | 25 | 26 | 27 | 28 | 29 | | |
| Mar 2020 | 1 | 2 | 3 | 4 | 5 | 6 | 7 | 8 | 9 | 10 | 11 | 12 | 13 | 14 | 15 | 16 | 17 | 18 | 19 | 20 | 21 | 22 | 23 | 24 | 25 | 26 | 27 | 28 | 29 | 30 | 31 |
| Apr 2020 | 1 | 2 | 3 | 4 | 5 | 6 | 7 | 8 | 9 | 10 | 11 | 12 | 13 | 14 | 15 | 16 | 17 | 18 | 19 | 20 | 21 | 22 | 23 | 24 | 25 | 26 | 27 | 28 | 29 | 30 | |
| May 2020 | 1 | 2 | 3 | 4 | 5 | 6 | 7 | 8 | 9 | 10 | 11 | 12 | 13 | 14 | 15 | 16 | 17 | 18 | 19 | 20 | 21 | 22 | 23 | 24 | 25 | 26 | 27 | 28 | 29 | 30 | 31 |
| Jun 2020 | 1 | 2 | 3 | 4 | 5 | 6 | 7 | 8 | 9 | 10 | 11 | 12 | 13 | 14 | 15 | 16 | 17 | 18 | 19 | 20 | 21 | 22 | 23 | 24 | 25 | 26 | 27 | 28 | 29 | 30 | |
---