---
2021/22 Season Crew TBA

Jacek started his sailing career quite young at the age of 8. As a junior, he raced Optimists, Lasers, 420s, and FJs. As he got older he got into cruising due to his father who was in the yacht brokerage industry. Together as a family, they cruised their Golfstar 41 Ketch all over Florida. His knowledge of the Caribbean expanded while he worked for Virgin Islands Cruising Guide Publications for 10 years.

Jacek then became a sailing instructor and climbed the ladder to a regional operations manager within the sailing school. While working for the sailing school, he taught many courses in the Virgin Islands. He has spent the last 10 years travelling the islands.

He finally made the leap and moved to the Caribbean in 2016. Using his intimate experiences of the Virgin Islands and local hot spots Jacek delivers a marvelously guided sailing experience.

Jacek is PADI certified and speaks Polish, Spanish, and English.


Maya's love for water and food comes from her background growing up in the Mediterranean. After living in beautiful (but landlocked) Utah for 14 years, she finally decided to go back to her aquatic roots and made the move to the Caribbean.

Pursuing her dream, she moved to the USVI in 2014, and has worked as a yacht chef since. Her passions include cooking, literature, travelling, and music. Maya believes that there is nothing better than gathering friends over plates of great food and seeing their smiles and enjoyment as they eat, talk and relax around the table. Her favorite cuisine is Mediterranean- but loves trying new things. Maya has made many strong bonds with local farmers, fishermen, and specialty food makers in the islands over the years and can guarantee the freshest ingredients in her galley. She strives for local, fresh, seasonal, and sustainable when creating her menus, also offering gluten-free, vegan, and vegetarian options.
Maya was awarded the best Stoli cocktail in the 2018 USVI VIPCA Charter Show- so you can leave the cooking and mixing of cocktails to her!
"I look forward to sharing my culinary passion with you, and making your experience on Sta Ana unforgettable!"

Maya is PADI and STCW certified and speaks Arabic, French, and English.

Jacek and Maya met when a friend asked for them to sub on Devine Sailing a Saba 50 in January 2016. Their shared passions for sailing, travelling, music, and food made them fall for one another. Jacek was working on Loveboat, a Lagoon 440 at the time, and convinced Maya to join him on board as the chef. Their year on Loveboat was "exciting and new" and they truly honed their strengths together to show guests the ultimate experience. They spent two seasons on Loveboat, and then made the leap to Sta Ana in May 2018. During their off time, Jacek and Maya enjoy globe trotting and exploring new places, jamming some tunes, diving and snorkeling, cooking together, and making each other laugh. Together, Jacek and Maya would like to show you the best the islands have to offer!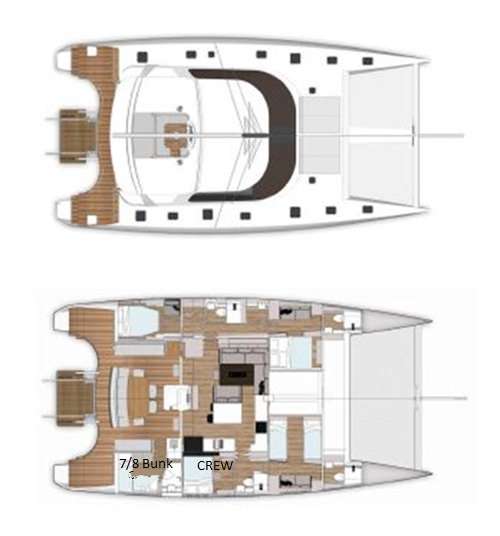 Specifications
| | |
| --- | --- |
| Type | Catamaran |
| Builder | Wave Catamarans |
| Year Built | 2016 |
| Size | 58.00 Ft |
| Beam | 30'2 Feet |
| Draft | 4'6 Feet |
| Guests | 6 |
Boat Details
| | |
| --- | --- |
| Cabins: | 3 |
| Queen: | 2 |
| Single Cabins: | 1 |
| Showers: | 3 |
| Wash Basins: | 3 |
| Heads: | - |
| Electric Heads: | 3 |
Pick Up Locations
| | |
| --- | --- |
| Pref. Pick-up: | YHG |
| Other Pick-up: | STT, West End |
---
Details
| | |
| --- | --- |
| Refit: | - |
| Helipad: | No |
| Jacuzzi: | No |
| A/C: | Full |
Engine Details
2 X 55hp Volvo diesels 2 X 7.5Kw generators 2 X 3500w inverters 2 X solar panels 6 independent air-conditioning units
Fuel Consumption:
-
Cruising Speed:
8-10 kts avg
Max Speed:
-
Locations
| | |
| --- | --- |
| Winter Area: | Caribbean Virgin Islands |
| Summer Area: | Caribbean Virgin Islands |
---
Amenities
| | |
| --- | --- |
| Salon Tv/VCR: | Yes |
| Salon Stereo: | Yes |
| Sat Tv: | WiFi limited to email usage only, no streaming. |
| # of Videos: | - |
| # DVDs/Movies: | - |
| # CD's: | - |
| Camcorder: | No |
| Books: | - |
| Board Games: | Yes |
| Sun Awning: | Yes |
| Deck Shower: | Yes |
| Bimini: | Yes |
| Water Maker: | Yes |
| | |
| --- | --- |
| Special Diets: | Yes |
| Kosher: | Inq |
| BBQ: | Yes |
| # Dine In: | 8 |
| Minimum Age: | water safe with legal guardian |
| Generator: | 2 x 7.5Kw |
| Inverter: | 2 x 3500w |
| Voltages: | 220v (adapters available) |
| Water Maker: | Yes |
| Water Cap: | - |
| Ice Maker: | Yes |
| Sailing Instructions: | No |
| Internet Access: | Onboard WIFI |
| | |
| --- | --- |
| Gay Charters: | Yes |
| Nude: | No |
| Hairdryers: | Yes |
| # Port Hatches: | 21 |
| Guests Smokes: | No |
| Crew Smokes: | No |
| Pets Aboard: | No |
| Pet Type: | - |
| Guest Pets: | No |
| Children Ok: | Yes |
| Hammock: | Yes |
| Windscoops: | No |
---
Water Sports
| | |
| --- | --- |
| Dinghy size: | 15' RIB Brand New |
| Dinghy hp: | 60hp |
| Dinghy # pax: | 9 |
| Water Skis Adult: | Yes |
| Water Skis Kids: | Yes |
| Jet Skis: | No |
| Wave Runners: | No |
| Kneeboard: | Yes |
| Windsurfer: | No |
| Snorkel Gear: | Yes |
| Tube: | Yes |
| | |
| --- | --- |
| Scurfer: | No |
| Wake Board: | 2 |
| Kayaks 1 Pax: | No |
| Kayaks (2 Pax): | No |
| Floating Mats: | No |
| Swim Platform: | Hydraulic platform |
| Boarding Ladder (Loc/Type): | Ladder off scoop steps |
| Sailing Dinghy: | No |
| Beach Games: | Yes |
| Fishing Gear: | Yes |
| Gear Type: | Trolling and Casting |
| Rods: | Yes |
Breakfast
Lunch
Hors D'oeuvres
Dinner
Captain's Specialty Cocktails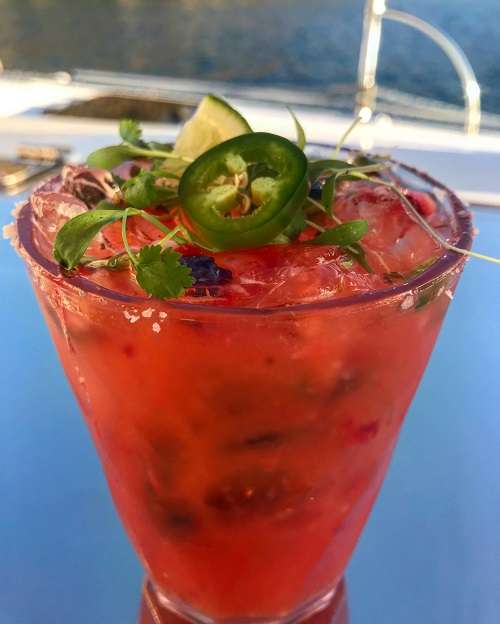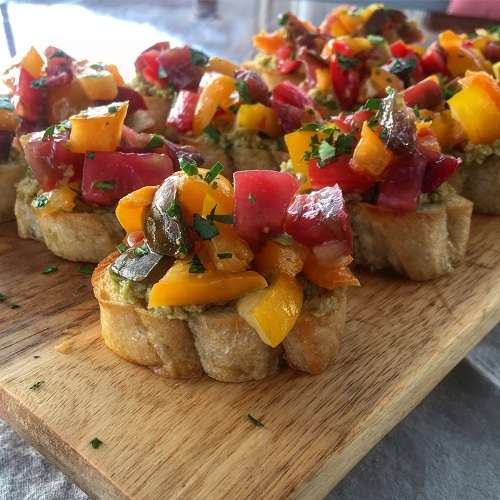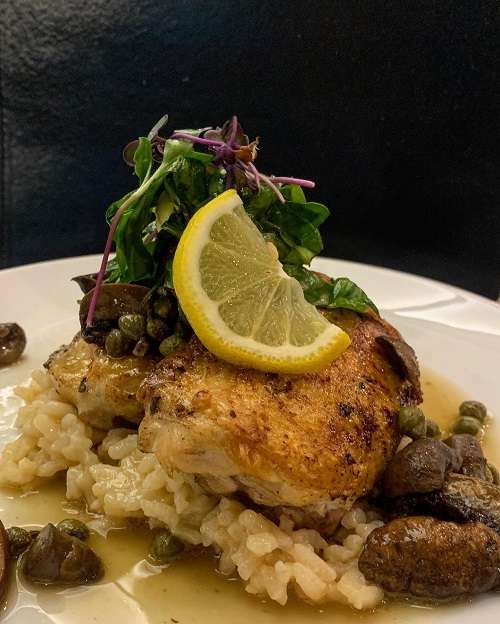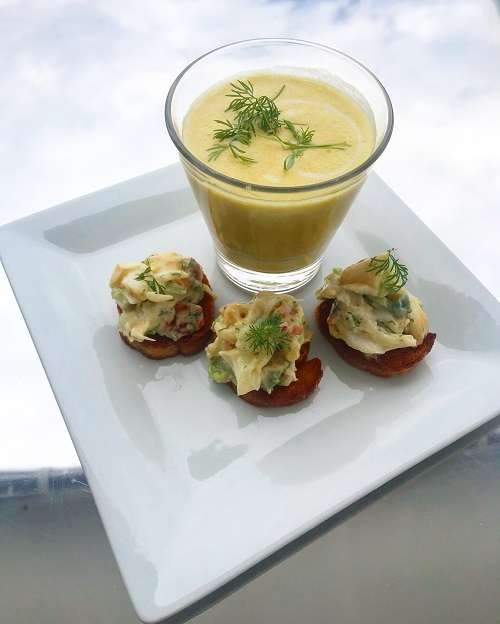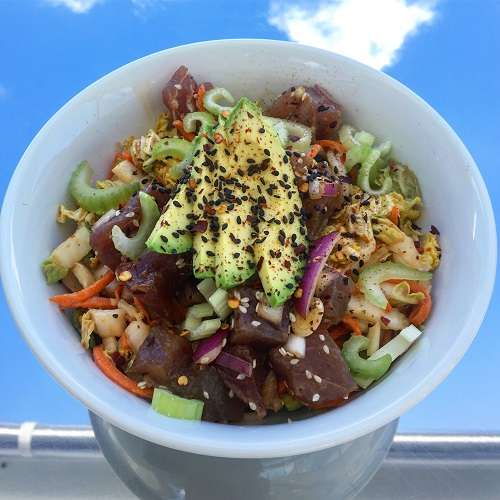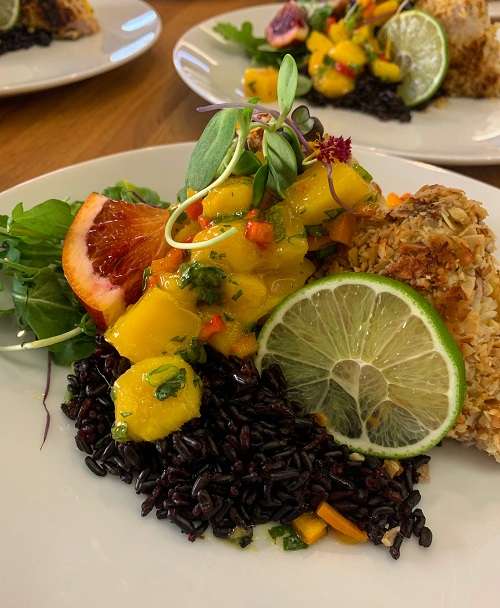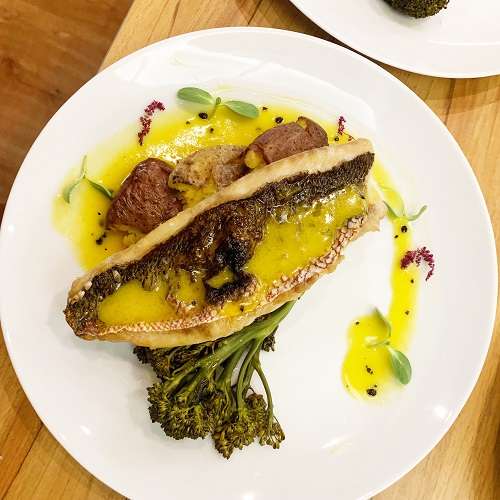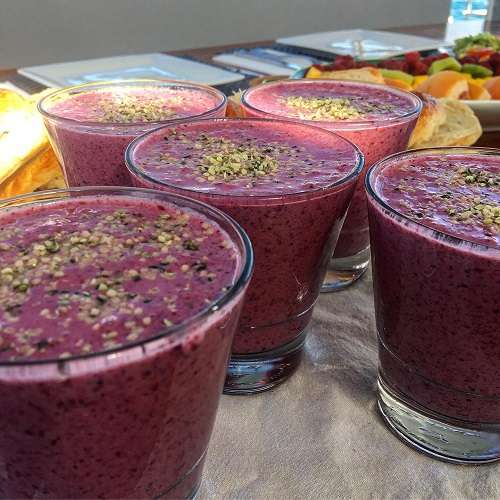 | | 2 Pax | 3 Pax | 4 Pax | 5 Pax | 6 Pax |
| --- | --- | --- | --- | --- | --- |
| N | N | N | N | N | N |
(15 December -30 April)
Caribbean Virgin Islands
(1 May - 14 December)
Caribbean Virgin Islands
| | | | | | | | | | | | | | | | | | | | | | | | | | | | | | | | |
| --- | --- | --- | --- | --- | --- | --- | --- | --- | --- | --- | --- | --- | --- | --- | --- | --- | --- | --- | --- | --- | --- | --- | --- | --- | --- | --- | --- | --- | --- | --- | --- |
| Aug 2021 | 1 | 2 | 3 | 4 | 5 | 6 | 7 | 8 | 9 | 10 | 11 | 12 | 13 | 14 | 15 | 16 | 17 | 18 | 19 | 20 | 21 | 22 | 23 | 24 | 25 | 26 | 27 | 28 | 29 | 30 | 31 |
| Sep 2021 | 1 | 2 | 3 | 4 | 5 | 6 | 7 | 8 | 9 | 10 | 11 | 12 | 13 | 14 | 15 | 16 | 17 | 18 | 19 | 20 | 21 | 22 | 23 | 24 | 25 | 26 | 27 | 28 | 29 | 30 | |
| Oct 2021 | 1 | 2 | 3 | 4 | 5 | 6 | 7 | 8 | 9 | 10 | 11 | 12 | 13 | 14 | 15 | 16 | 17 | 18 | 19 | 20 | 21 | 22 | 23 | 24 | 25 | 26 | 27 | 28 | 29 | 30 | 31 |
| Nov 2021 | 1 | 2 | 3 | 4 | 5 | 6 | 7 | 8 | 9 | 10 | 11 | 12 | 13 | 14 | 15 | 16 | 17 | 18 | 19 | 20 | 21 | 22 | 23 | 24 | 25 | 26 | 27 | 28 | 29 | 30 | |
| Dec 2021 | 1 | 2 | 3 | 4 | 5 | 6 | 7 | 8 | 9 | 10 | 11 | 12 | 13 | 14 | 15 | 16 | 17 | 18 | 19 | 20 | 21 | 22 | 23 | 24 | 25 | 26 | 27 | 28 | 29 | 30 | 31 |
| Jan 2022 | 1 | 2 | 3 | 4 | 5 | 6 | 7 | 8 | 9 | 10 | 11 | 12 | 13 | 14 | 15 | 16 | 17 | 18 | 19 | 20 | 21 | 22 | 23 | 24 | 25 | 26 | 27 | 28 | 29 | 30 | 31 |
| Feb 2022 | 1 | 2 | 3 | 4 | 5 | 6 | 7 | 8 | 9 | 10 | 11 | 12 | 13 | 14 | 15 | 16 | 17 | 18 | 19 | 20 | 21 | 22 | 23 | 24 | 25 | 26 | 27 | 28 | | | |
| Mar 2022 | 1 | 2 | 3 | 4 | 5 | 6 | 7 | 8 | 9 | 10 | 11 | 12 | 13 | 14 | 15 | 16 | 17 | 18 | 19 | 20 | 21 | 22 | 23 | 24 | 25 | 26 | 27 | 28 | 29 | 30 | 31 |
| Apr 2022 | 1 | 2 | 3 | 4 | 5 | 6 | 7 | 8 | 9 | 10 | 11 | 12 | 13 | 14 | 15 | 16 | 17 | 18 | 19 | 20 | 21 | 22 | 23 | 24 | 25 | 26 | 27 | 28 | 29 | 30 | |
| May 2022 | 1 | 2 | 3 | 4 | 5 | 6 | 7 | 8 | 9 | 10 | 11 | 12 | 13 | 14 | 15 | 16 | 17 | 18 | 19 | 20 | 21 | 22 | 23 | 24 | 25 | 26 | 27 | 28 | 29 | 30 | 31 |
| Jun 2022 | 1 | 2 | 3 | 4 | 5 | 6 | 7 | 8 | 9 | 10 | 11 | 12 | 13 | 14 | 15 | 16 | 17 | 18 | 19 | 20 | 21 | 22 | 23 | 24 | 25 | 26 | 27 | 28 | 29 | 30 | |
| Jul 2022 | 1 | 2 | 3 | 4 | 5 | 6 | 7 | 8 | 9 | 10 | 11 | 12 | 13 | 14 | 15 | 16 | 17 | 18 | 19 | 20 | 21 | 22 | 23 | 24 | 25 | 26 | 27 | 28 | 29 | 30 | 31 |
---