---
Captain Wayne and Chef Emily Keese are both originally from Texas. They met skydiving in the late 1990's and have always led a very adventurous lifestyle together.

Wayne began his adventurous lifestyle at the age of 16 when he found the love of flying an airplane. He joined the Army at the age of 17 and became part of an airborne unit which sparked his desire to skydive professionally. He later pursued his instructor's ratings and began Eagle Flight Skydiving in Granbury, Texas to share the sport with others.

Emily pursued a career as a pharmacist. As a way of giving back, Emily volunteers working with groups like Open Arms International in Eldoret, Kenya and Outreach organizations on the Amazon River assisting with the needed medical camps.

Wayne and Emily found a new love of scuba while honeymooning in Cozumel. They have both pursued their Padi Divemaster, Rescue Diver and Emergency First Response Trainer certifications. With several dive vacations, their love of the sea grew and they had a dream to purchase their own sailboat at some point.

In 2013, they commissioned Royal Cape Catamaran in Durban, South Africa to build S/V Manna, a true 53' ocean going vessel. After sailing Manna across the Atlantic and the love for the islands in BVI it was decided to share the passion with others by chartering her in the BVI for a few years before continuing on with circumnavigating. In the last two years during the off season they have sailed over 20,000 nautical miles abroad delivering supplies for humanitarian efforts in areas like Haiti along with providing aid for full time missionaries in the field around the world. During these new adventures Wayne and Emily both have earned their USCG 100 ton Master Ratings with Sail Endorsements.

You will find the crew aboard S/V Manna to be awesome and extremely unique. Whether you're looking for a slow relaxing vacation or a fast paced adventure the crew onboard Manna has the knowledge and skills to deliver. You and your guest are truly in for the vacation of a lifetime.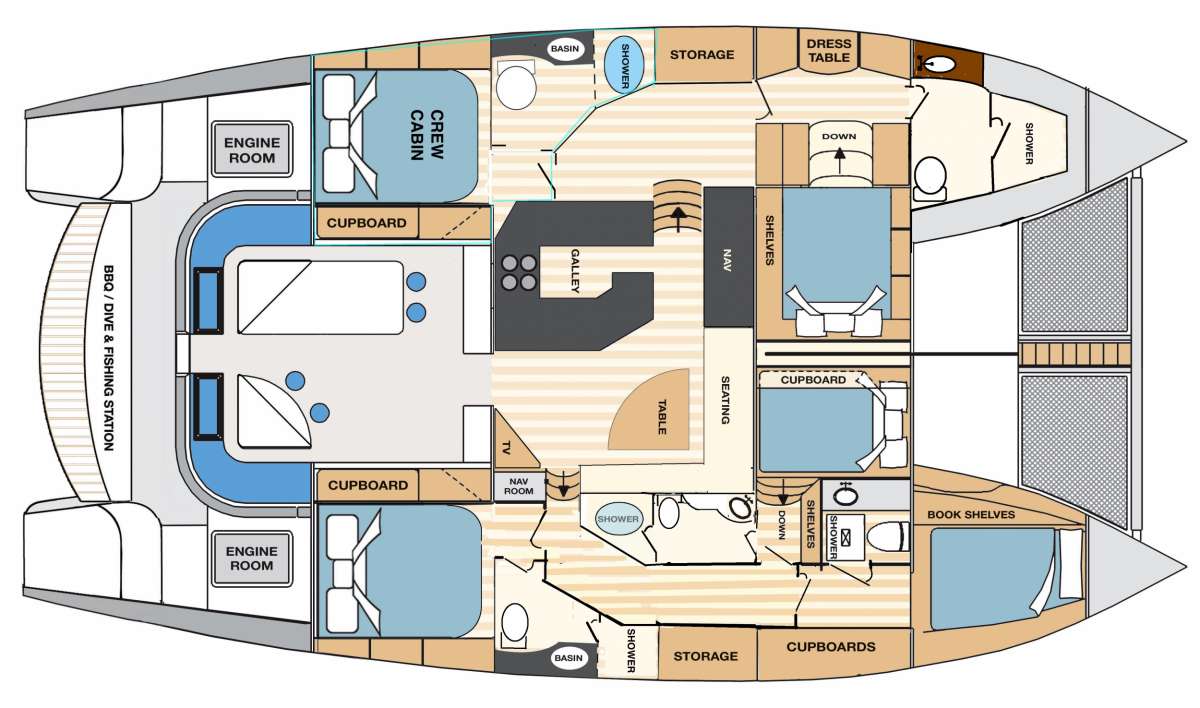 Specifications
| | |
| --- | --- |
| Type | Catamaran |
| Builder | Royal Cape |
| Year Built | 2014 |
| Size | 53.00 Ft |
| Beam | 28.5 Feet |
| Draft | 4 Feet |
| Guests | 8 |
Boat Details
| | |
| --- | --- |
| Cabins: | 4 |
| Queen: | 2 |
| Single Cabins: | 1 |
| Showers: | 4 |
| Wash Basins: | 4 |
| Heads: | 4 |
| Electric Heads: | 4 |
Pick Up Locations
| | |
| --- | --- |
| Pref. Pick-up: | Fajardo, Puerto Rico |
| Other Pick-up: | BVI |
---
Details
| | |
| --- | --- |
| Refit: | 2019 |
| Helipad: | No |
| Jacuzzi: | No |
| A/C: | Full |
Engine Details
Yamaha 75 Generator 12.5KW Norhtern Lights 2016
Fuel Consumption:
-
Cruising Speed:
-
Max Speed:
-
Locations
| | |
| --- | --- |
| Winter Area: | Caribbean Virgin Islands, Caribbean Leewards, Caribbean Windwards |
| Summer Area: | Caribbean Virgin Islands, Caribbean Leewards, Caribbean Windwards |
---
Amenities
| | |
| --- | --- |
| Salon Tv/VCR: | Yes |
| Salon Stereo: | Yes |
| Sat Tv: | Internet availability, portable VHF radios for guest use when on shore to call for pickup, and SSB Radio. |
| # of Videos: | - |
| # DVDs/Movies: | Yes |
| # CD's: | Ships Libr |
| Camcorder: | No |
| Books: | Ships Libr |
| Board Games: | Yes |
| Sun Awning: | Yes |
| Deck Shower: | Yes |
| Bimini: | Yes |
| Water Maker: | - |
| | |
| --- | --- |
| Special Diets: | Yes |
| Kosher: | Yes |
| BBQ: | Yes |
| # Dine In: | 8 |
| Minimum Age: | Water safe |
| Generator: | 12.5kw |
| Inverter: | Yes |
| Voltages: | 110 |
| Water Maker: | - |
| Water Cap: | - |
| Ice Maker: | Yes |
| Sailing Instructions: | No |
| Internet Access: | Onboard Computer |
| | |
| --- | --- |
| Gay Charters: | Yes |
| Nude: | Yes |
| Hairdryers: | No |
| # Port Hatches: | - |
| Guests Smokes: | Transom Only |
| Crew Smokes: | No |
| Pets Aboard: | No |
| Pet Type: | - |
| Guest Pets: | Yes |
| Children Ok: | Yes |
| Hammock: | Yes |
| Windscoops: | No |
---
Water Sports
| | |
| --- | --- |
| Dinghy size: | 14 ft Ocean master |
| Dinghy hp: | 60 |
| Dinghy # pax: | 8 |
| Water Skis Adult: | Yes |
| Water Skis Kids: | No |
| Jet Skis: | No |
| Wave Runners: | No |
| Kneeboard: | No |
| Windsurfer: | No |
| Snorkel Gear: | Yes |
| Tube: | Yes |
| | |
| --- | --- |
| Scurfer: | No |
| Wake Board: | Yes |
| Kayaks 1 Pax: | No |
| Kayaks (2 Pax): | Yes |
| Floating Mats: | 2 |
| Swim Platform: | Stern |
| Boarding Ladder (Loc/Type): | Transom |
| Sailing Dinghy: | No |
| Beach Games: | Yes |
| Fishing Gear: | Yes |
| Gear Type: | Trolling |
| Rods: | 4 |
Appetizers and Snacks:
Ceviche with corn chips

Baked Goat Cheese with crackers

Fruit Plates with dip
Vegetable Trays with dip

Cream cheese dip with carrots and bagel chips
Queso, Picante and chips
Nuts and Pretzels
Trail Mix
Guacomole , Cucumber Salsa and chips
Chips and Dip
Breakfast:
Breakfast burritos
Ham cups with egg
Muffins
Crepes
Oven baked eggs and bacon
Pancakes and Sausage
Fruit and Cheese Plate
Breakfast pie
Various Yogurts and Cereals
Lunch:
Quiche and garbanzo salad
Tacos with Pineapple Salsa
Shrimp melon salad
Chicken Gyros
Pasta with Italian Sausage
Pulled Pork with Coleslaw
Chicken Salad
Dinner:
Pork loin with Guava Sauce
Mahi Mahi with Mango Salsa
Orange chicken
Smoked Ribs
Beef Tenderloin with Smashed potatoes
Shrimp Curry
Roasted mustard seed sea bass
Desserts
Fruit Sorbet
Pineapple lush
Cheescake
Key Lime Pie
Banoffe Cake
Cupcakes
Cool Strawberry Shortcake
Brownies with Ice Cream
Assorted Cookies
* Special or custom dietary requirements available upon prior request
2 Pax
3 Pax
4 Pax
5 Pax
6 Pax
7 Pax
8 Pax
Winter 2020 to 2021
$14,500
$15,500
$16,500
$17,500
$18,500
$19,500
$22,000
Summer 2021
$14,500
$15,500
$16,500
$17,500
$18,500
$19,500
$22,000
Winter 2021 to 2022
$14,500
$15,500
$16,500
$17,500
$18,500
$19,500
$22,000
Legal for USVI Only Charters

GENERAL RATES NOTE: All rates are for 7 nights, 8 days.
For short charters please use the divide-by-6 rule for figuring short charter premiums.
Charters of less than 6 nights available depending on schedule and season, please inquire.

Half board Rates: Deduct $200 per person per 7 nights of charter. Requires 3 Lunches and 4 Dinners and associated beverages taken ashore at client expense. Please inquire for less than 7 nights.

Sleep aboard Rates: Please calculate using 1/2 the daily rate. Includes boarding after 5pm, dock side with marina amenities along with welcome cocktail and breakfast the next morning and an early charter start. Dinner ashore at client expense. 6 Night Min.

Manna is available to charter Down Island and will relocate. Please inquire for availability.

CHRISTMAS / NEW YEARS: 1-8 @ $25,000, 7 night minimum.


Christmas charter must end no later than December 26th. New Year charter cannot begin earlier than Dec 27th

.

Manna is not a BVI based vessel but will include BVI Cruising permits.
Yacht has BVI Fishing Yacht Registration.

Manna is available Summer 2020 in the SVI, USVI, BVI and areas South

Spanish Virgins Maximum 6 pax only
You can view a sample itinerary that the amazing crew of Manna skillfully put together. The itinerary is an example of Spanish Virgin Islands (SVI) charter and includes; stops at one of the oldest lighthouses in the Caribbean, exhilarating island hikes, breathtaking snorkel spots and basking in the sun on the sand of the world famous Flamenco Beach.

*** S P E C I A L S * * *
$14,000 Client pays ALL expenses.

MCA Compliant
All Inclusive.Cruising Permit: Paid by BoatLicenses: Paid by Boat
(15 December -30 April)
Caribbean Virgin Islands, Caribbean Leewards, Caribbean Windwards
(1 May - 14 December)
Caribbean Virgin Islands, Caribbean Leewards, Caribbean Windwards
| | | | | | | | | | | | | | | | | | | | | | | | | | | | | | | | |
| --- | --- | --- | --- | --- | --- | --- | --- | --- | --- | --- | --- | --- | --- | --- | --- | --- | --- | --- | --- | --- | --- | --- | --- | --- | --- | --- | --- | --- | --- | --- | --- |
| Apr 2021 | 1 | 2 | 3 | 4 | 5 | 6 | 7 | 8 | 9 | 10 | 11 | 12 | 13 | 14 | 15 | 16 | 17 | 18 | 19 | 20 | 21 | 22 | 23 | 24 | 25 | 26 | 27 | 28 | 29 | 30 | |
| May 2021 | 1 | 2 | 3 | 4 | 5 | 6 | 7 | 8 | 9 | 10 | 11 | 12 | 13 | 14 | 15 | 16 | 17 | 18 | 19 | 20 | 21 | 22 | 23 | 24 | 25 | 26 | 27 | 28 | 29 | 30 | 31 |
| Jun 2021 | 1 | 2 | 3 | 4 | 5 | 6 | 7 | 8 | 9 | 10 | 11 | 12 | 13 | 14 | 15 | 16 | 17 | 18 | 19 | 20 | 21 | 22 | 23 | 24 | 25 | 26 | 27 | 28 | 29 | 30 | |
| Jul 2021 | 1 | 2 | 3 | 4 | 5 | 6 | 7 | 8 | 9 | 10 | 11 | 12 | 13 | 14 | 15 | 16 | 17 | 18 | 19 | 20 | 21 | 22 | 23 | 24 | 25 | 26 | 27 | 28 | 29 | 30 | 31 |
| Aug 2021 | 1 | 2 | 3 | 4 | 5 | 6 | 7 | 8 | 9 | 10 | 11 | 12 | 13 | 14 | 15 | 16 | 17 | 18 | 19 | 20 | 21 | 22 | 23 | 24 | 25 | 26 | 27 | 28 | 29 | 30 | 31 |
| Sep 2021 | 1 | 2 | 3 | 4 | 5 | 6 | 7 | 8 | 9 | 10 | 11 | 12 | 13 | 14 | 15 | 16 | 17 | 18 | 19 | 20 | 21 | 22 | 23 | 24 | 25 | 26 | 27 | 28 | 29 | 30 | |
| Oct 2021 | 1 | 2 | 3 | 4 | 5 | 6 | 7 | 8 | 9 | 10 | 11 | 12 | 13 | 14 | 15 | 16 | 17 | 18 | 19 | 20 | 21 | 22 | 23 | 24 | 25 | 26 | 27 | 28 | 29 | 30 | 31 |
| Nov 2021 | 1 | 2 | 3 | 4 | 5 | 6 | 7 | 8 | 9 | 10 | 11 | 12 | 13 | 14 | 15 | 16 | 17 | 18 | 19 | 20 | 21 | 22 | 23 | 24 | 25 | 26 | 27 | 28 | 29 | 30 | |
| Dec 2021 | 1 | 2 | 3 | 4 | 5 | 6 | 7 | 8 | 9 | 10 | 11 | 12 | 13 | 14 | 15 | 16 | 17 | 18 | 19 | 20 | 21 | 22 | 23 | 24 | 25 | 26 | 27 | 28 | 29 | 30 | 31 |
| Jan 2022 | 1 | 2 | 3 | 4 | 5 | 6 | 7 | 8 | 9 | 10 | 11 | 12 | 13 | 14 | 15 | 16 | 17 | 18 | 19 | 20 | 21 | 22 | 23 | 24 | 25 | 26 | 27 | 28 | 29 | 30 | 31 |
| Feb 2022 | 1 | 2 | 3 | 4 | 5 | 6 | 7 | 8 | 9 | 10 | 11 | 12 | 13 | 14 | 15 | 16 | 17 | 18 | 19 | 20 | 21 | 22 | 23 | 24 | 25 | 26 | 27 | 28 | | | |
| Mar 2022 | 1 | 2 | 3 | 4 | 5 | 6 | 7 | 8 | 9 | 10 | 11 | 12 | 13 | 14 | 15 | 16 | 17 | 18 | 19 | 20 | 21 | 22 | 23 | 24 | 25 | 26 | 27 | 28 | 29 | 30 | 31 |
---