---
An English skipper with 60,000 nautical miles of open ocean sailing, Captain Nick Meyer is a qualified commercial Yacht-master, 200 tonnes, power and sail since 2004. Nick grew up on a yacht in the Med and is equally familiar with the Caribbean, BVI and the east coast of the U.S. Nick is trained on jet drive catamarans, in search and rescue in the Irish Sea and a 50' twin screw Fisheries patrol vessel. He has crossed the Atlantic twice and delivered yachts across the Bay of Biscay, raced around Ireland, voyaged to Antarctica and explored the Canadian Arctic up to the NW Passage.

Nick is also a chef, specializing in French and Japanese cuisine. He enjoys all water sports, reads a lot, plays chess, bridge and an oriental game called Go. He speaks the Queen's English and is conversant in Japanese and French. Nick and his crew look forward to welcoming you aboard Luna Danns!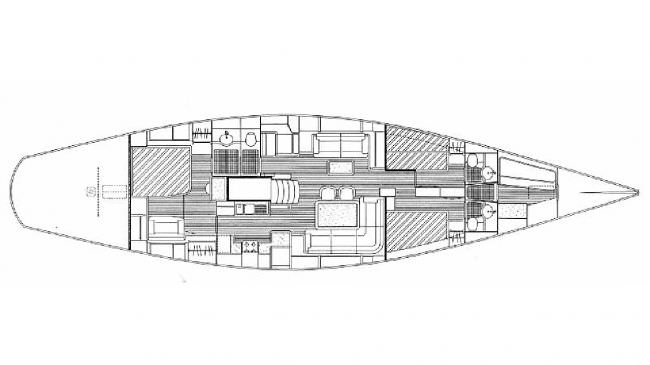 Specifications
| | |
| --- | --- |
| Type | Sailing Yachts |
| Builder | Sweden Yachts |
| Year Built | 1994 |
| Size | 70.00 Ft |
| Beam | 16.99 Feet |
| Draft | 8.53 Feet |
| Guests | 6 |
Boat Details
| | |
| --- | --- |
| Cabins: | 3 |
| Queen: | - |
| Single Cabins: | 1 |
| Showers: | - |
| Wash Basins: | - |
| Heads: | - |
| Electric Heads: | - |
Pick Up Locations
| | |
| --- | --- |
| Pref. Pick-up: | - |
| Other Pick-up: | - |
---
Details
| | |
| --- | --- |
| Refit: | 2016 |
| Helipad: | - |
| Jacuzzi: | No |
| A/C: | Full |
Engine Details
-
Fuel Consumption:
-
Cruising Speed:
-
Max Speed:
-
Locations
| | |
| --- | --- |
| Winter Area: | Caribbean Virgin Islands, Caribbean Leewards, Caribbean Windwards |
| Summer Area: | - |
---
Amenities
| | |
| --- | --- |
| Salon Tv/VCR: | Yes |
| Salon Stereo: | - |
| Sat Tv: | - |
| # of Videos: | - |
| # DVDs/Movies: | - |
| # CD's: | - |
| Camcorder: | - |
| Books: | - |
| Board Games: | - |
| Sun Awning: | Yes |
| Deck Shower: | Yes |
| Bimini: | No |
| Water Maker: | Yes |
| | |
| --- | --- |
| Special Diets: | - |
| Kosher: | No |
| BBQ: | Yes |
| # Dine In: | - |
| Minimum Age: | - |
| Generator: | - |
| Inverter: | - |
| Voltages: | - |
| Water Maker: | Yes |
| Water Cap: | - |
| Ice Maker: | Yes |
| Sailing Instructions: | - |
| Internet Access: | - |
| | |
| --- | --- |
| Gay Charters: | Yes |
| Nude: | No |
| Hairdryers: | Yes |
| # Port Hatches: | - |
| Guests Smokes: | No smoking |
| Crew Smokes: | No |
| Pets Aboard: | No |
| Pet Type: | - |
| Guest Pets: | No |
| Children Ok: | Yes |
| Hammock: | No |
| Windscoops: | - |
---
Water Sports
| | |
| --- | --- |
| Dinghy size: | Zodiac |
| Dinghy hp: | 20 |
| Dinghy # pax: | - |
| Water Skis Adult: | - |
| Water Skis Kids: | - |
| Jet Skis: | - |
| Wave Runners: | - |
| Kneeboard: | - |
| Windsurfer: | - |
| Snorkel Gear: | 6 |
| Tube: | 6 |
| | |
| --- | --- |
| Scurfer: | - |
| Wake Board: | - |
| Kayaks 1 Pax: | - |
| Kayaks (2 Pax): | - |
| Floating Mats: | - |
| Swim Platform: | - |
| Boarding Ladder (Loc/Type): | - |
| Sailing Dinghy: | - |
| Beach Games: | - |
| Fishing Gear: | Yes |
| Gear Type: | - |
| Rods: | 1 |
Chez Nick Asian Menu
Lunch
Always served with a unique, fresh salad using ingredients available locally
Day 1 Shredded-beef teriyaki spring rolls Japanese cuisine
Halved and served open with a finely chopped spring onion and red pepper garnish and a light chili sauce. Gohan (small bowl of Japanese rice) and miso soup.
Vegetarian spring roll options available.
Day 2 Home made dim sum trios Chinese cuisine
Prawn and ginger, pork and chive, chicken and coriander steamed dumplings, on a steamed vegetable bed, served with a paprika and minted yoghurt dressing and a traditional soy and lemon dipping sauce.
Vegetarian option available
Day 3 Thai salad Thai cuisine
King Prawns on a bed of grated daikon and red carrot, papaya and mango, tossed with fresh coriander in a subtle lemon and sweet chili dressing garnished with crushed cashew nuts and spring onions.
Vegetarians, grilled tofu in place of prawns.
Day 4 Far eastern trio of chicken brochettes Asian fusion cuisine
Indonesian satay stick, marinated in peanut oil and saffron with a traditional satay sauce.
Yakitori, the Japanese version with spring onions in a teriyaki sauce.
Hong Kong garlic and chive minced chicken meatballs and cherry tomatoes with a touch of sweet chili glaze.
Served on a bed of shredded daikon. Vegetarian brochettes as an alternative.
Day 5 Age ("agay") Dashi Dofu and Gomae Japanese cuisine
Juicy cubes of tofu, lightly fried in an ultra light batter and set in a light golden broth of tuna (dashi) stock. Served with chilled sesame spinach (gomae) on grated daikon and ume boshi (pickled plums). Detox healthy! Vegetarian!
Day 6 Fish Tikka Jalfreizi South Indian cuisine
Grilled chunky fish fillet cubes, marinated in ginger, turmeric, cumin and yoghurt. Served alongside saffron basmati rice, green beans and given a rich Jalfreizi sauce.
Marinated tofu in place of fish for the strict vegetarian
Day 7 Katsudon Rice Bowl Japanese cuisine
Japanese rice, topped with a pork Schnitzel and stir-fry vegetables in a light soy, mirin and garlic sauce.. Hold the pork and add eggplant schnitzel instead for the vegetarians!
Miso soup to accompany with tofu and spring onions.
Nick's Asian Menu for 7 days
Dinner
Always served with a unique, fresh salad using ingredients available locally
Day 1 Seafood Tempura Japanese cuisine
Butterflied king prawns, delicate calamari rings and wafers of lotus root, cooked Tempura style, with freshly grated daikon in soy and a creamy lemon, basil and coriander sauce. Accompanied by gomae, miso shiru and gohan (sesame spinach, miso soup and rice)
Vegetarian tempura option available.
Day 2 Authentic Indian Thali North Indian Cuisine
Tandoori chicken wings and drumsticks, himalayan mountain style dahl,
"subjii" (spiced vegetables), raita (finely diced cucumber in yoghurt), achaar (Indian pickles). Served with freshly rolled and puffed chapatis (flatbreads), followed by homemade Kulfi (Indian ice cream) and a cup of Chai.
Day 3 Sashimi and Sushi party night Japanese cuisine
Fresh Tuna and local available fish, served sashimi style, garnished with a nest of daikon noodles and salad.
Sushi:- Nigirizushi - Ebi (prawn), Unagi (cooked eel), Tamago (sweet Japanese omelette).
Makizushi: California roll, vegetable roll, Futomaki (fat roll with assorted fillings).
Served with the traditional pickled ginger, wasabi shiso leaves and shoyu (soy sauce).
Day 4 Lobster medallions flambé Thai fusion cuisine
Sweet, succulent disks of lobster tail, in a moat of snowy white Thai curry sauce, surrounded by Bhutanese red rice with fine green beans cooked to taste.
Daikon medallions as a vegetarian alternative.
Day 5 Yaki Niku Korean cuisine
Thinly sliced medallions of pork loin seared in a homemade garlic and chili oil, laid on a bed of "Bibimba", Korean vegetables and rice topped with shredded omlette and spring onions. Served with a hot and sour consommé soup on the side. Vegetarian: Tofu.
Day 6 Szechuan Beef and Nasi Goreng Chinese cuisine
Spicy beef fillet strips, flambé with green peppers and onion. Served with a vibrant vegetable "nasi goreng" noodle medley from Singapore, garnished with beansprouts, crushed peanut and sesame seeds
A clear consommé soup with spring onions to accompany.
Day 7 Tataki Beef & Zaru Soba Japanese cuisine
Fillet steak, seared on the outside and sliced thin, Tataki style with ponzu dipping sauce. Accompanied by fresh soba noodles, finely sliced burdock root, pak choi, bean sprouts and sweet carrot batons in a warm traditional broth made of Japanese dashi, soy, and lemon.
Chez Nick Mediterranean Menu
Lunch
Day 1 Spanish Paella.
Local seafood including mussels, king prawns and chicken in a sumptuous stock with garlic, white wine and onion sauce - making the rice and vegetables unite. Ceasar salad on the side.
Day 2 Greek Island salad.
The Ionian classic with feta cheese, cucumber, olives, anchovies. Along with.... Taltziki dip, another greek favourite, like the Indian Raita, but with the addition of a little garlic. A selection of fresh vegetables jullienne and plantain crisps with which to dip…. Freshly made pita breads.
Day 3 Freshly caught, Tuna Cocktail
You or I catch the tuna. I take it to the galley, pan fry in garlic and shoyu and then poach with a splash of white wine. I remove all the bones and present succulent chunks of freshly caught tuna nestling in a garden salad and a marie rose dressing. So healthy, your body will thank you!
Day 4 Spanish Omelette salad and Albondigas meatballs.
A wedge of traditional spanish omelette, thick and juicy, with potatoes and onion.
Grilled pork meatballs in a light tomato and garlic sauce. A classic spanish tapas.
A full lunchtime green salad, including asparagus, artichokes and apple.
Day 5 Swiss style strips of sirloin.
Flash fried, garlic-creamed sirloin steak strips, cooked to order with green peppers and cherry tomatoes alongside linguine in butter and black pepper. Side salad.
Day 6 Traditional Greek Moussaka.
The greek classic, layers of potato, minced lamb - or beef, aubergine and bechamel sauce. Served with fresh bread and a side salad of cucumber and olives.
Day 7 Al fresco luncheon.
Smoked salmon, sliced salamis and hams, grilled chicken, a cheese board selection, a large egg salad, sliced tomatoes, various home made dips, fresh warm french baguettes. Home made chutney to sweeten.
Nick's Mediterranean Menu for 7 days
Dinner
Always served with a unique, fresh salad using ingredients available locally
Day 1 Seared Scallops
with an orange and saffron zing, with smoked streaky bacon-wrapped asparagus and a light curry mayonnaise; beetroot and sweet potato rosti with a parmesan crisp or two and red pepper sauce drizzle.
Day 2 Tropical fishcakes
made with fresh, wild salmon & cod with a mango dressing on a bed of cucumber and coriander, a spicy sweetcorn salsa and toasted pita bread soldiers.
Day 3 Moroccan Rack of Lamb
blushing inside, with a vibrant red pepper drizzle. Garnished with home-made humous, tzaltziki and chutney. A stuffed tomato with Japanese rice topped with gruyere cheese. Seasonal vegetables.
Day 4 Tapas Night
Garlic king prawns, tender calamari, albondigas meatballs in piquant tomato, lamb souvlaiki, whitebait with lemon mayonaise, pork ragout with pinto beans, Portabello mushrooms with melted emental, gratinated; Patatas Bravas; Thai salad to freshen the palate.
Day 5 Chicken a la Peche.
Baked chicken breast wrapped in Parma ham, stuffed with cream cheese and peaches, served with a wild mushroom and black pepper sauce on a bed of crushed new potatoes. Batons of carrot, zucchini and daikon.
Day 6 Grilled Black Halibut
with a beurre rouge, served on a bed of butternut & sweet potato mash,
parmesan crisp, fresh asparagus and vegetables julliene.
Day 7 Seared Venison Loin
served sliced with tart lingonberry sauce. Wild and shiitake mushrooms in truffle oil, fine green beans, fendant potato tower.
Chez Nick Signature Menu
Lunch
Always served with a unique, fresh salad using ingredients available locally
Day 1 Hot, melting Scotch Eggs
The yolks still running golden and, surrounded by the mid-layer of minced spiced pork, the outer casing of home-made breadcrumbs. Served with an apple and raisin chutney and a julienne of celeriac salad.
Day 2 Boeuf Bourguignon
The French, timeless classic. Slow-cooked beef and ham hock in that French taste; served in a large, home-made yorkshire pudding with fine green beans.
Day 3 Seafood Linguine
Seared squid, prawns, mussels and monkfish tail tossed in a garlic, chili and tomato sauce and served immediately on a bed of peppered linguine.
Day 4 Coq au Vin
Tender chicken legs and thighs braised in red wine and stock with lardons, mushrooms and onions.
Day 5 Dosas
South Indian thin crepes, filled with spicy vegetables, served with a yoghurt curry and homemade fruit chutney.
Day 6 Fresh Pizza
Homemade pizza dough; a selection of toppings to inspire, including red and green peppers, cajun chicken, onions, garlic, ham and a touch of tomato and buffalo mozzarella.
Day 7 Nick's Pigs in Blankets
Batons of carrot and fine green beans, encased in seasoned pork mince and wrapped in Parma ham; Slow cooked in a rich red pepper confit and served sliced with leek mash and my signature onion sauce. A Sunday special.
Nick's Signature Menu for 7 days
Dinner
Always served with a unique, fresh salad using ingredients available locally
Day 1 Slow Grilled Swordfish Steak
Thick cut, regularly basted in garlic butter and served with baby spinach, confit cherry tomatoes and Dauphinoise potatoes.
Day 2 Thai Night
Chicken breasts with a crisp, spicy crust, soft and juicy inside; served sliced. Massamam vegetable curry.
Sticky rice and fresh, crunchy thai salad.
Classic Tom Yam sour soup on the side.
Day 3 Japanese Robatayaki Night
Tuna loin Tataki served with ponzu dip and grated daikon;
Kastu pork (escalopes of pork, sliced with a homemade barbeque sauce;
Yakitori, wooden skewers of chicken with spring onions in a light teriyaki sauce; Grilled mackerel, filleted and garnished with chives and pickled ginger;
Accompanied by spinach gomae, oden daikon, gohan (rice) and red miso soup.
Day 4 Vegetarian Night
Oven-baked Eggplant with a vegetable ragout;
Bombay Dofu (Indian spicy tofu);
Creamy Mushroom Vol au vents;
Green beans in a sesame seed sauce.
Served with green pea risotto.
Butternut squash soup.
Day 5 Nick's Posh Fish Pie.
Fresh atlantic cod, pacific salmon and king prawns all in a luxurious, creamy sauce with quinelles of mashed potato on top, dusted and browned with parmesan cheese. Served with petit pois.
Day 6 Mexican Night
Mexican spiced chicken strips, with red, yellow and green peppers;
slow-cooked beans, sour cream, shredded lettuce, salsa verde, Guacamole. Finely chopped, piquante tomato, cucumber and onion salsa, grated cheese, soft and hard tacos. Arroz Verde.
Day 7 Roast Beef of Olde Englande
Another English classic; Whole roasted beef fillet, roasted potatoes, roast parsnips, Yorkshire puds, gravy, green beans, carrots, red cabbage and horseradish sauce.


Luna Danns Breakfast Options
Coffee, tea, herbal teas and fruit juices available with every breakfast.
Continental Breakfast - including mini croissants, yogurt, a variety of toasted bread, fruit plate, cereals, jams and hard-boiled eggs.
Japanese Breakfast – Teryaki salmon fillet with a small green salad garnish, served with Japanese rice (gohan) and miso soup (misoshiru).
Omelets du jour – custom-made omelets, made to order. Salad garnish, accompanied by fruit of the day.
Scrambled Eggs, with Smoked Salmon – served on whole meal toast, garnished with spring onions or chives, accompanied by fruit of the day.
The Full Monte – English breakfast, bacon, eggs, with mushrooms and baked beans, fried tomato and toast, accompanied by fruit of the day.
Tropical French Toast - topped with toasted coconut and whipped cream served with butter and syrup and accompanied by breakfast sausage and fruit of the day.
Fresh Fruit Salad – The detox special. Tropical fresh fruits, served with Greek yogurt, muesli & toasted muffins.
Frittata del giorno – salad garnish and toast served with jams and butter, accompanied by the fruit of the day.
Eggs Benedict - poached eggs served on English muffins& ham, topped by a freshly made Hollandaise sauce served with sliced tomato and fruit of the day.
Lox and Bagels - smoked salmon served with toasted bagels, cream cheese, chopped red onion & capers, accompanied by fruit of the day.
Pancake medallions - served with a sweet, delicious banana topping accompanied by bacon or sausage and fruit of the day.
Boiled eggs with toast soldiers – the English classic; soft-boiled eggs with runny yolks and strips of toast for dipping; accompanied by fruit of the day
Scots porridge oats - served with the traditional cold milk and raisins on the side; toast & jams and accompanied by fruit of the day.
| | 2 Pax | 3 Pax | 4 Pax | 5 Pax | 6 Pax |
| --- | --- | --- | --- | --- | --- |
| N | N | N | N | N | N |
(15 December -30 April)
Caribbean Virgin Islands, Caribbean Leewards, Caribbean Windwards
Please Contact Us For Availability
No Yatch Insight Available.
---