---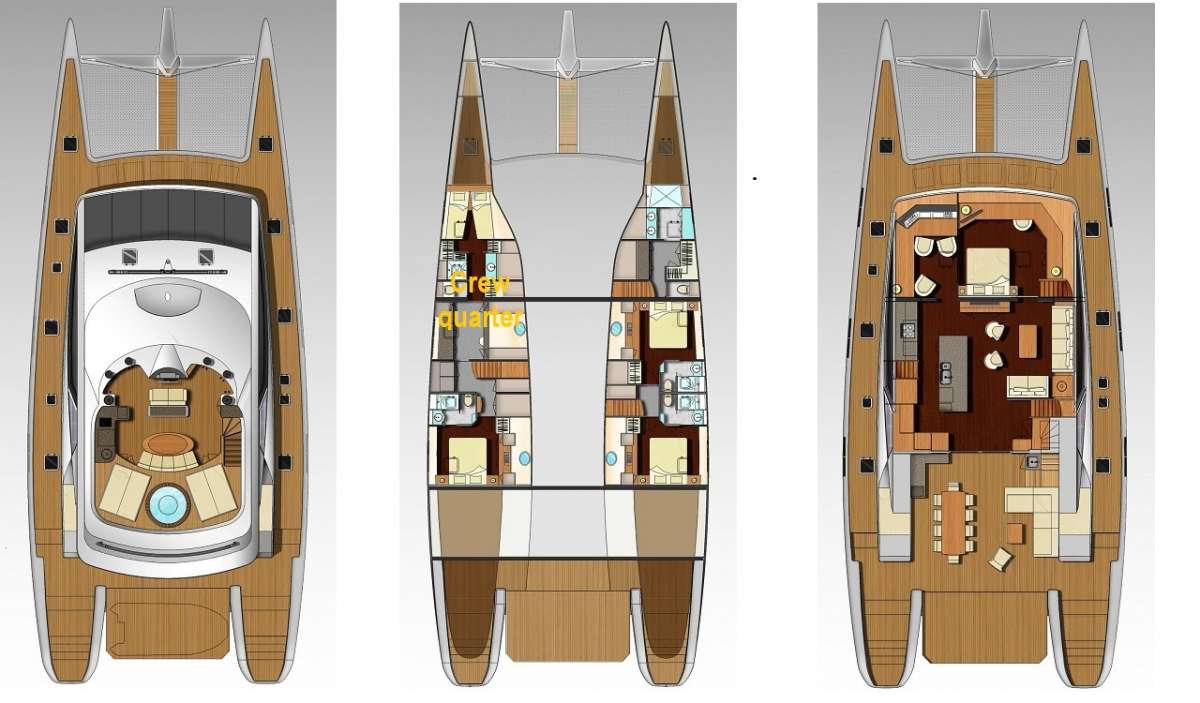 Specifications
| | |
| --- | --- |
| Type | Catamaran |
| Builder | Jean-Jacque Coste |
| Year Built | 2011 |
| Size | 98.00 Ft |
| Beam | 12 Metres |
| Draft | 2 Metres |
| Guests | 8 |
Boat Details
| | |
| --- | --- |
| Cabins: | 4 |
| Queen: | - |
| Single Cabins: | 1 |
| Showers: | 4 |
| Wash Basins: | 5 |
| Heads: | 5 |
| Electric Heads: | 5 |
Pick Up Locations
| | |
| --- | --- |
| Pref. Pick-up: | Palma de Mallorca |
| Other Pick-up: | Antigua / Grenadines |
---
Details
| | |
| --- | --- |
| Refit: | 2017 |
| Helipad: | No |
| Jacuzzi: | Yes |
| A/C: | Full |
Engine Details
Twin 425 Cummins Generators Twin 27 KW x2
Fuel Consumption:
20
Cruising Speed:
8knts
Max Speed:
14knts US Gall/Hr
Locations
| | |
| --- | --- |
| Winter Area: | Caribbean Virgin Islands, Caribbean Leewards, Caribbean Windwards |
| Summer Area: | W. Med -Naples/Sicily, W. Med -Riviera/Cors/Sard., W. Med - Spain/Balearics |
---
Amenities
| | |
| --- | --- |
| Salon Tv/VCR: | Yes |
| Salon Stereo: | Yes |
| Sat Tv: | - |
| # of Videos: | - |
| # DVDs/Movies: | Yes |
| # CD's: | Yes |
| Camcorder: | Yes |
| Books: | Yes |
| Board Games: | Yes |
| Sun Awning: | Yes |
| Deck Shower: | Yes |
| Bimini: | Yes |
| Water Maker: | x2 |
| | |
| --- | --- |
| Special Diets: | Yes |
| Kosher: | Yes |
| BBQ: | Yes |
| # Dine In: | - |
| Minimum Age: | - |
| Generator: | Yes |
| Inverter: | - |
| Voltages: | - |
| Water Maker: | x2 |
| Water Cap: | - |
| Ice Maker: | Yes |
| Sailing Instructions: | - |
| Internet Access: | Onboard WIFI |
| | |
| --- | --- |
| Gay Charters: | Yes |
| Nude: | Yes |
| Hairdryers: | Yes |
| # Port Hatches: | Yes |
| Guests Smokes: | - |
| Crew Smokes: | No |
| Pets Aboard: | Yes |
| Pet Type: | Upon request |
| Guest Pets: | Yes |
| Children Ok: | Yes |
| Hammock: | No |
| Windscoops: | No |
---
Water Sports
| | |
| --- | --- |
| Dinghy size: | - |
| Dinghy hp: | - |
| Dinghy # pax: | 8 |
| Water Skis Adult: | Yes |
| Water Skis Kids: | Yes |
| Jet Skis: | Yes |
| Wave Runners: | Yes |
| Kneeboard: | No |
| Windsurfer: | No |
| Snorkel Gear: | Yes |
| Tube: | Yes |
| | |
| --- | --- |
| Scurfer: | No |
| Wake Board: | Yes |
| Kayaks 1 Pax: | No |
| Kayaks (2 Pax): | No |
| Floating Mats: | Yes |
| Swim Platform: | Yes |
| Boarding Ladder (Loc/Type): | Yes |
| Sailing Dinghy: | - |
| Beach Games: | Yes |
| Fishing Gear: | Yes |
| Gear Type: | NA |
| Rods: | 4 |
CAPTAIN
ADRIAN MILLER


Age: 30
Nationality: South African
Languages: English / African
Having grown up around the sea, the ocean and everything to do with it, sailing is his greatest passion. He has worked on yachts for over ten years and has travelled the world always taking time to enjoy what the ocean has to offer. Adi ran a successful surf charter yacht in the Maldives, and a charter boat in the Bahamas. Before starting as a captain he has also worked as an engineer and larger yachts so he doesn't mind getting his hands dirty on board. Having recently started Kiteboarding, he sees CARTOUCHE as his dream job where there is a nice and familiar atmosphere on board in combination with professional and sporty sailing. With his vast charter experience, great personality and lovely sense of humor , he will make your experience on board even more nice..

CHIEF ENGINEER
CALVIN DEMONT


Age: 25
Nationality: South African
Languages: English
Calvin grew up around the ocean and fresh water lakes, fishing and enjoying water sports. When he completed high school he completed the necessary courses to become a yachtie and headed to Fort Lauderdale to find a job on a yacht. He has never looked back ever since. Calvin has a peaceful demeanour and is the ultimate MacGyver.




STEWARDESS
JESSI-JEAN HAVEMANN


Age: 30
Nationality: South African
Languages: English
Jessie is from Cape Town in South Africa, Jessie is a friendly and caring person, she has a passion for adventure, animals and the ocean. Jessie started and occupational therapy center for disabled children using horses and helping them learn how to ride. Jessie also started a surfing program for under-privileged children helping them get off the streets and into the water. Her personal mission is making guests as comfortable as possible and with her positive can do atti¬tude, she is a real pleasure to be around.

CHEF
SKYLA SMITH


Age:21
Nationality: South African
Languages: English
Skyla was born in Africa and spent six of her teenage years living on the ocean, sailing over 30 000 nautical miles across the Caribbean, the America's and South Pacific with her family. Growing up constantly surrounded by different cultures and cuisines, inspired her passion for meeting new people and experimenting with vibrant flavourful foods. Returning home she knew she wanted her career to include both living on the ocean and cooking! I then attended a culinary school in Hermanus, South Africa where after she started her career as a chef on yachts. When I'm not in the galley you can find me in the water freediving, kiting or surfing.

No menu details available.
No rates details available.
(15 December -30 April)
Caribbean Virgin Islands, Caribbean Leewards, Caribbean Windwards
(1 May - 14 December)
W. Med -Naples/Sicily, W. Med -Riviera/Cors/Sard., W. Med - Spain/Balearics
| | | | | | | | | | | | | | | | | | | | | | | | | | | | | | | | |
| --- | --- | --- | --- | --- | --- | --- | --- | --- | --- | --- | --- | --- | --- | --- | --- | --- | --- | --- | --- | --- | --- | --- | --- | --- | --- | --- | --- | --- | --- | --- | --- |
| Mar 2020 | 1 | 2 | 3 | 4 | 5 | 6 | 7 | 8 | 9 | 10 | 11 | 12 | 13 | 14 | 15 | 16 | 17 | 18 | 19 | 20 | 21 | 22 | 23 | 24 | 25 | 26 | 27 | 28 | 29 | 30 | 31 |
| Apr 2020 | 1 | 2 | 3 | 4 | 5 | 6 | 7 | 8 | 9 | 10 | 11 | 12 | 13 | 14 | 15 | 16 | 17 | 18 | 19 | 20 | 21 | 22 | 23 | 24 | 25 | 26 | 27 | 28 | 29 | 30 | |
| May 2020 | 1 | 2 | 3 | 4 | 5 | 6 | 7 | 8 | 9 | 10 | 11 | 12 | 13 | 14 | 15 | 16 | 17 | 18 | 19 | 20 | 21 | 22 | 23 | 24 | 25 | 26 | 27 | 28 | 29 | 30 | 31 |
| Jun 2020 | 1 | 2 | 3 | 4 | 5 | 6 | 7 | 8 | 9 | 10 | 11 | 12 | 13 | 14 | 15 | 16 | 17 | 18 | 19 | 20 | 21 | 22 | 23 | 24 | 25 | 26 | 27 | 28 | 29 | 30 | |
| Jul 2020 | 1 | 2 | 3 | 4 | 5 | 6 | 7 | 8 | 9 | 10 | 11 | 12 | 13 | 14 | 15 | 16 | 17 | 18 | 19 | 20 | 21 | 22 | 23 | 24 | 25 | 26 | 27 | 28 | 29 | 30 | 31 |
| Aug 2020 | 1 | 2 | 3 | 4 | 5 | 6 | 7 | 8 | 9 | 10 | 11 | 12 | 13 | 14 | 15 | 16 | 17 | 18 | 19 | 20 | 21 | 22 | 23 | 24 | 25 | 26 | 27 | 28 | 29 | 30 | 31 |
| Sep 2020 | 1 | 2 | 3 | 4 | 5 | 6 | 7 | 8 | 9 | 10 | 11 | 12 | 13 | 14 | 15 | 16 | 17 | 18 | 19 | 20 | 21 | 22 | 23 | 24 | 25 | 26 | 27 | 28 | 29 | 30 | |
| Oct 2020 | 1 | 2 | 3 | 4 | 5 | 6 | 7 | 8 | 9 | 10 | 11 | 12 | 13 | 14 | 15 | 16 | 17 | 18 | 19 | 20 | 21 | 22 | 23 | 24 | 25 | 26 | 27 | 28 | 29 | 30 | 31 |
| Nov 2020 | 1 | 2 | 3 | 4 | 5 | 6 | 7 | 8 | 9 | 10 | 11 | 12 | 13 | 14 | 15 | 16 | 17 | 18 | 19 | 20 | 21 | 22 | 23 | 24 | 25 | 26 | 27 | 28 | 29 | 30 | |
| Dec 2020 | 1 | 2 | 3 | 4 | 5 | 6 | 7 | 8 | 9 | 10 | 11 | 12 | 13 | 14 | 15 | 16 | 17 | 18 | 19 | 20 | 21 | 22 | 23 | 24 | 25 | 26 | 27 | 28 | 29 | 30 | 31 |
| Jan 2021 | 1 | 2 | 3 | 4 | 5 | 6 | 7 | 8 | 9 | 10 | 11 | 12 | 13 | 14 | 15 | 16 | 17 | 18 | 19 | 20 | 21 | 22 | 23 | 24 | 25 | 26 | 27 | 28 | 29 | 30 | 31 |
| Feb 2021 | 1 | 2 | 3 | 4 | 5 | 6 | 7 | 8 | 9 | 10 | 11 | 12 | 13 | 14 | 15 | 16 | 17 | 18 | 19 | 20 | 21 | 22 | 23 | 24 | 25 | 26 | 27 | 28 | | | |
---