---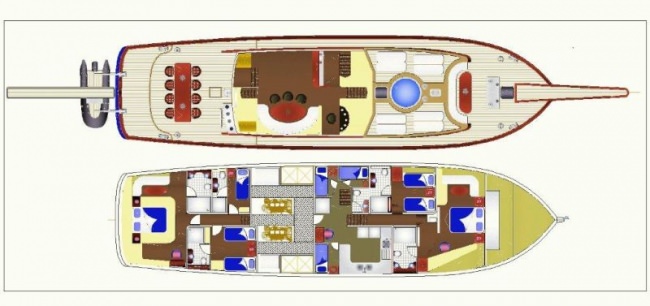 Specifications
| | |
| --- | --- |
| Type | Motor Sailers |
| Builder | Mavi Rota Yachting |
| Year Built | 2011 |
| Size | 98.40 Ft |
| Beam | 7.2 Metres |
| Draft | 2.6 Metres |
| Guests | 9 |
Boat Details
| | |
| --- | --- |
| Cabins: | 5 |
| Queen: | 1 |
| Single Cabins: | 1 |
| Showers: | - |
| Wash Basins: | - |
| Heads: | - |
| Electric Heads: | - |
Pick Up Locations
| | |
| --- | --- |
| Pref. Pick-up: | Bodrum, Turkey |
| Other Pick-up: | Gocek, Turkey |
---
Details
| | |
| --- | --- |
| Refit: | - |
| Helipad: | - |
| Jacuzzi: | Yes |
| A/C: | Full |
Engine Details
2 * 390 hp Caterpillar C12 DITA 1 * 22.5 kVA & 1 * 40 kVA, ONAN
Fuel Consumption:
60
Cruising Speed:
13 Knot
Max Speed:
-
Locations
| | |
| --- | --- |
| Winter Area: | Greece, Turkey |
| Summer Area: | Greece, Turkey |
---
Amenities
Salon Tv/VCR:
Yes
Salon Stereo:
-
Sat Tv:
VHF, GSM
Nav Equipment, all Simrad brand
12�� Navstation
8,4�� Navstation
Active GPS Antenna
18�� - 2 Kw. Radar Dome
24�� � 4 Kw. Radar Dome
AP 28 Autopilot
AP 24 Autopilot
Fluxgate Compass
Rudder Feedback
Wind System
Wind Display
2 * VHF Radio W/Class-D
Search & Rescue Transponder
EPIRB
AIS
# of Videos:
-
# DVDs/Movies:
-
# CD's:
-
Camcorder:
-
Books:
-
Board Games:
Yes
Sun Awning:
Yes
Deck Shower:
-
Bimini:
-
Water Maker:
-
| | |
| --- | --- |
| Special Diets: | Inq |
| Kosher: | Inq |
| BBQ: | - |
| # Dine In: | - |
| Minimum Age: | - |
| Generator: | - |
| Inverter: | - |
| Voltages: | - |
| Water Maker: | - |
| Water Cap: | - |
| Ice Maker: | - |
| Sailing Instructions: | - |
| Internet Access: | - |
| | |
| --- | --- |
| Gay Charters: | Inq |
| Nude: | Inq |
| Hairdryers: | - |
| # Port Hatches: | - |
| Guests Smokes: | - |
| Crew Smokes: | Inq |
| Pets Aboard: | No |
| Pet Type: | - |
| Guest Pets: | - |
| Children Ok: | - |
| Hammock: | - |
| Windscoops: | - |
---
Water Sports
| | |
| --- | --- |
| Dinghy size: | 4.8 |
| Dinghy hp: | 75 |
| Dinghy # pax: | - |
| Water Skis Adult: | Yes |
| Water Skis Kids: | - |
| Jet Skis: | - |
| Wave Runners: | - |
| Kneeboard: | - |
| Windsurfer: | - |
| Snorkel Gear: | Yes |
| Tube: | Yes |
| | |
| --- | --- |
| Scurfer: | - |
| Wake Board: | Yes |
| Kayaks 1 Pax: | Yes |
| Kayaks (2 Pax): | - |
| Floating Mats: | - |
| Swim Platform: | - |
| Boarding Ladder (Loc/Type): | - |
| Sailing Dinghy: | - |
| Beach Games: | - |
| Fishing Gear: | - |
| Gear Type: | - |
| Rods: | - |
Captain Mehmet Kayirli:
He graduated from Marmara University department of Tourism Guidance Programme. He has an experience of 14 years in the business. Began working on Blue Heaven at the beginning of 2013. Speaks fluent English. Likes sailing and fishing.

Chef Isa Vatan:
Isa is Turkish native and was born in 1977. Speaks English. He is a high school graduated chef. He has 20 year experince as an Executive Chef in many hotels and VIP gulets such as Dolce Mare. He likes trying new recipes. Isa also has seaman licence for 8 years. He is a very creative chef and excellent at ala carte menus. He enjoys riding motorcycle and reading.

Deckhand Burak Yakar:
He is not only a good deckhand he also gets on very well with people. He worked on VIP gulets and he likes swimming and fishing. His previous experiences are M/Y Motif and M/S Yildizhanlar. He started to work on Blue Heaven at the begining of 2012. He likes listening to music and interested in watersports. He speaks English.

Deckhand Gaffur Dogan:
Born in 1978. He is a dedicated seaman and he also takes care of the cabins. He speaks good level of Engish. He recently stepped on Blue Heaven and worked as a deckhand on M/Y Miracle. As he dedicated himself to the sea, he likes all watersports. One of his other interests is listening to music.

Steward Soner Yilanci:
He is Turkish native and speaks fluent English. Soner has excellent communication skills with the guests.
No menu details available.
No rates details available.
(15 December -30 April)
Greece, Turkey
(1 May - 14 December)
Greece, Turkey
| | | | | | | | | | | | | | | | | | | | | | | | | | | | | | | | |
| --- | --- | --- | --- | --- | --- | --- | --- | --- | --- | --- | --- | --- | --- | --- | --- | --- | --- | --- | --- | --- | --- | --- | --- | --- | --- | --- | --- | --- | --- | --- | --- |
| Jun 2020 | 1 | 2 | 3 | 4 | 5 | 6 | 7 | 8 | 9 | 10 | 11 | 12 | 13 | 14 | 15 | 16 | 17 | 18 | 19 | 20 | 21 | 22 | 23 | 24 | 25 | 26 | 27 | 28 | 29 | 30 | |
| Jul 2020 | 1 | 2 | 3 | 4 | 5 | 6 | 7 | 8 | 9 | 10 | 11 | 12 | 13 | 14 | 15 | 16 | 17 | 18 | 19 | 20 | 21 | 22 | 23 | 24 | 25 | 26 | 27 | 28 | 29 | 30 | 31 |
| Aug 2020 | 1 | 2 | 3 | 4 | 5 | 6 | 7 | 8 | 9 | 10 | 11 | 12 | 13 | 14 | 15 | 16 | 17 | 18 | 19 | 20 | 21 | 22 | 23 | 24 | 25 | 26 | 27 | 28 | 29 | 30 | 31 |
| Sep 2020 | 1 | 2 | 3 | 4 | 5 | 6 | 7 | 8 | 9 | 10 | 11 | 12 | 13 | 14 | 15 | 16 | 17 | 18 | 19 | 20 | 21 | 22 | 23 | 24 | 25 | 26 | 27 | 28 | 29 | 30 | |
| Oct 2020 | 1 | 2 | 3 | 4 | 5 | 6 | 7 | 8 | 9 | 10 | 11 | 12 | 13 | 14 | 15 | 16 | 17 | 18 | 19 | 20 | 21 | 22 | 23 | 24 | 25 | 26 | 27 | 28 | 29 | 30 | 31 |
| Nov 2020 | 1 | 2 | 3 | 4 | 5 | 6 | 7 | 8 | 9 | 10 | 11 | 12 | 13 | 14 | 15 | 16 | 17 | 18 | 19 | 20 | 21 | 22 | 23 | 24 | 25 | 26 | 27 | 28 | 29 | 30 | |
| Dec 2020 | 1 | 2 | 3 | 4 | 5 | 6 | 7 | 8 | 9 | 10 | 11 | 12 | 13 | 14 | 15 | 16 | 17 | 18 | 19 | 20 | 21 | 22 | 23 | 24 | 25 | 26 | 27 | 28 | 29 | 30 | 31 |
| Jan 2021 | 1 | 2 | 3 | 4 | 5 | 6 | 7 | 8 | 9 | 10 | 11 | 12 | 13 | 14 | 15 | 16 | 17 | 18 | 19 | 20 | 21 | 22 | 23 | 24 | 25 | 26 | 27 | 28 | 29 | 30 | 31 |
| Feb 2021 | 1 | 2 | 3 | 4 | 5 | 6 | 7 | 8 | 9 | 10 | 11 | 12 | 13 | 14 | 15 | 16 | 17 | 18 | 19 | 20 | 21 | 22 | 23 | 24 | 25 | 26 | 27 | 28 | | | |
| Mar 2021 | 1 | 2 | 3 | 4 | 5 | 6 | 7 | 8 | 9 | 10 | 11 | 12 | 13 | 14 | 15 | 16 | 17 | 18 | 19 | 20 | 21 | 22 | 23 | 24 | 25 | 26 | 27 | 28 | 29 | 30 | 31 |
| Apr 2021 | 1 | 2 | 3 | 4 | 5 | 6 | 7 | 8 | 9 | 10 | 11 | 12 | 13 | 14 | 15 | 16 | 17 | 18 | 19 | 20 | 21 | 22 | 23 | 24 | 25 | 26 | 27 | 28 | 29 | 30 | |
| May 2021 | 1 | 2 | 3 | 4 | 5 | 6 | 7 | 8 | 9 | 10 | 11 | 12 | 13 | 14 | 15 | 16 | 17 | 18 | 19 | 20 | 21 | 22 | 23 | 24 | 25 | 26 | 27 | 28 | 29 | 30 | 31 |
---