E-Brochure
Luxury Yacht Vacation Details
---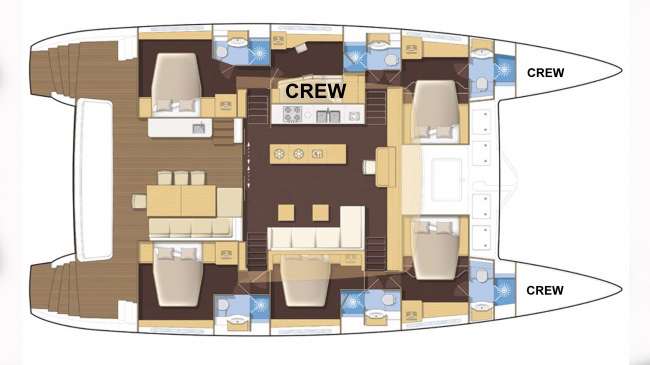 Boat Details
| | |
| --- | --- |
| Cabins: | 5 |
| Queen: | 5 |
| Single Cabins: | 1 |
| Showers: | 5 |
| Wash Basins: | 5 |
| Heads: | 5 |
| Electric Heads: | 5 |
Array ( [details] => Array ( [0] => Array ( [key] => Cabins [value] => 5 ) [1] => Array ( [key] => Queen [value] => 5 ) [2] => Array ( [key] => Single [value] => ) [3] => Array ( [key] => Showers [value] => 5 ) [4] => Array ( [key] => Wash Basins [value] => 5 ) [5] => Array ( [key] => Heads [value] => 5 ) [6] => Array ( [key] => Electric Heads [value] => 5 ) ) )
Pick Up Locations
| | |
| --- | --- |
| Pref. Pick-up: | Yacht Have Grande, USVI |
| Other Pick-up: | - |
---
Details
| | |
| --- | --- |
| Refit: | - |
| Helipad: | No |
| Jacuzzi: | No |
| A/C: | Full |
Engine Details
150hp twin Volvo engines 2 x generators
Fuel Consumption:
6
Cruising Speed:
8.5 knots
Max Speed:
12 knots Knots
Locations
| | |
| --- | --- |
| Winter Area: | Caribbean Virgin Islands, Caribbean Leewards |
| Summer Area: | Caribbean Virgin Islands, Caribbean Leewards, Caribbean Windwards |
---
Amenities
| | |
| --- | --- |
| Salon Tv/VCR: | Yes |
| Salon Stereo: | Yes |
| Sat Tv: | - |
| # of Videos: | |
| # DVDs/Movies: | - |
| # CD's: | - |
| Camcorder: | No |
| Books: | 20+ |
| Board Games: | Yes |
| Sun Awning: | No |
| Deck Shower: | Yes |
| Bimini: | Yes |
| Water Maker: | - |
| | |
| --- | --- |
| Special Diets: | Yes |
| Kosher: | Inq |
| BBQ: | Yes |
| # Dine In: | Sea |
| Minimum Age: | Inquire |
| Generator: | Yes |
| Inverter: | 24/110v - 60Hz - 2 x 2800 VA |
| Voltages: | 110 & 220V |
| Water Maker: | - |
| Water Cap: | - |
| Ice Maker: | Yes |
| Sailing Instructions: | No |
| Internet Access: | Onboard WIFI |
| | |
| --- | --- |
| Gay Charters: | Inq |
| Nude: | Inq |
| Hairdryers: | Yes |
| # Port Hatches: | Many |
| Guests Smokes: | Transom only |
| Crew Smokes: | No |
| Pets Aboard: | No |
| Pet Type: | - |
| Guest Pets: | No |
| Children Ok: | Yes |
| Hammock: | Yes |
| Windscoops: | No |
---
Water Sports
| | |
| --- | --- |
| Dinghy size: | 15ft |
| Dinghy hp: | 60 hp Honda |
| Dinghy # pax: | 8 |
| Water Skis Adult: | Yes |
| Water Skis Kids: | No |
| Jet Skis: | No |
| Wave Runners: | No |
| Kneeboard: | Yes |
| Windsurfer: | No |
| Snorkel Gear: | Yes |
| Tube: | Yes |
| | |
| --- | --- |
| Scurfer: | No |
| Wake Board: | Yes |
| Kayaks 1 Pax: | No |
| Kayaks (2 Pax): | Yes |
| Floating Mats: | No |
| Swim Platform: | 2 |
| Boarding Ladder (Loc/Type): | Stern |
| Sailing Dinghy: | No |
| Beach Games: | No |
| Fishing Gear: | Yes |
| Gear Type: | Trolling Rods |
| Rods: | 2 |
Captain Brand (32) is an RYA Offshore Skipper with over 35,000 nautical
miles of sailing experience and 6 years of charter captaining
experience in the Virgin Islands, Windward & Leeward Islands. Having
sailed multiple ocean passages across the Atlantic and the Caribbean
Sea as well as captained over 100 crewed charters; not only is he at
home behind the helm of a sailboat but also has an abundance of local
and sailing knowledge to share.

Captain Brand grew up in the town of Middleburg, South Africa - but in
his early 20s quickly found his way to the ocean to become a sailing
captain, and a passionate scuba diving instructor. You'll find that
when he isn't behind the helm, he is almost always in the water
snorkeling, scuba diving or fishing.

Chef Jayde (29) is an RYA Coastal Skipper with over 25,000 nautical
miles of sailing experience and has worked alongside Captain Brand for
the last 5 years of chartering in the Virgin Islands, Windward &
Leeward Islands. She has worked the role of Chef aboard sailing
catamarans for over 100 crewed charters, as well as sailing deliveries
across the Atlantic ocean and the Caribbean sea. She caters for all
sorts of dietary requirements such as food allergies, vegetarian,
vegan, pescatarian and more to ensure that every guest is cared for to
their own tastes. Jayde enjoys cooking fresh and colorful, and has a
flare for turning fresh caught seafoods into ceviches and sushi.

Chef Jayde grew up in the city of Johannesburg, South Africa - but
also pursued a life near the ocean as soon as she left high school and
not only is she an excellent chef but also a certified captain, scuba
diver and passionate kiteboarder.

Together this duo are skilled and lightning fast on the water,
charming, fun and know everything there is to know about running a
crewed charter yacht to make sure that your vacation is impeccable.
Professionalism, immaculate organization and passionate entertainers
are just a small handful of things that these two pride themselves in
when running a yacht and have years of fantastic reviews and repeat
clients to prove it.

Captain Brand and Chef Jayde are joined aboard Seahome by a third crew
member.
Breakfast
- Fresh Local Fruits, Yoghurts and Cereals
- Banana/Blueberry Pancakes w/ Homemade Rum Syrup and Crisp Bacon
- Perfectly Poached Eggs Benedict w/ Dill Sour Cream, Canadian Bacon & Local Avocados
- Vegetable, Prosciutto & Cream Cheese Omelette's w/ Roasted Rosemary Butternut
- Caramel and Almond Crusted Vanilla French Toast & Spiced Sausages
- Freshly Baked Muffins
- Fresh Local Bread, Croissant's & Baguette
- Coffee, Coffee, Coffee…and Variety of Teas
Lunch
- Blackened Caribbean Shrimp Caesar Salad w/ Homemade Garlic Bread & Parmesan Crisps
- Basil/Black Bean Hamburgers in Paradise
- Greek Tower Stack Salad w/ Lemon Honey Baked Chicken and Crisp Ciabatta
- South African Style BBQ (Braai) Surprise & Potato Salad
- Local Seafood and Vegetable Stir Fry
- Mexican Seafood Quinoa Salad
- Rasta Pasta
- All You Can Eat Tacos and All You Can Drink Margaritas
- Spicy West Indian Chicken Roti with Fried Plantains Crisps
- Maryland Style Crab Cakes w/ Curry Mayo & Fresh Salad Greens
Appetizers
- Fresh Cut Vegetables with Homemade Garlic/Pepper Hummus
- Rum Balsamic Reduction On Top Fresh Caprese Salad (Local Tomatoes/Basil)
- Perfect Beef Blue Chip Nachos with Homemade Guacamole/Salsa
- Rare Seared Sirloin Steak, Local Basil, Spinach & Cream Cheese Stuffed Mushrooms
- Crispy Top Parmesan Spinach Artichoke Dip with Roasted Pita Bread
- Bite Size Quiches and Honey Baked Brie
- Smoked Salmon, Cream Cheese and Capers on Crunchy Toast Points
- Grilled Bacon Wrapped Scallops atop Fresh Local Greens with Fig Reduction
Dinner
- Sticky Bourbon Grilled Salmon w/ Fresh Greens & Baked Honey Squash
- Spicy Caribbean Red Snapper Over Island Baked Vegetables & Seasoned Wild Rice
- Dijon MahiMahi over Slow Baked Ratatouille & Grilled Teriyaki Bok Choy
- Caribbean Jerk Shrimp over Stir Fried Vegetables, Buttered Jasmine Rice & Teriyaki Reduction
- Fillet Sud Africane w/ Rosemary Infused White Pepper Sauce, Parmesan Asparagus Spears & Roasted Potatoes
- Grilled and Secretly Marinaded Pork Tenderloin w/ Dill Cucumber Salad & Spiced Orzo
- Prosciutto And Herb Stuffed Chicken Wrap Bakes w/ Tarragon Cream Sauce, Mushroom Infused Risotto & Glazed Grape Tomatoes
Desserts
- Tangy Lemon and Lime Cheesecake w/ Berry Coulee
- Homemade Chocolate Mocha Mousse
- Red Wine Poached Pears w/ Mint Sprigs and Homemade Caramel Dressing
- Island Coconut Poke Cake w/ Cafe Rum Sauce
- Raspberry Creme Brûlée
Drinks
- Daiquiris (Strawberry, Mango)
- Pina Coladas
- Famous Virgin Islands Pain Killers
- Captains Dark & Stormy
Please keep in mind that all menus are created per charter and around the preferences and dietary requirements of the guests. I have long term experience cooking for vegan, vegetarian, gluten free and other allergies and dietary needs.
(15 December -30 April)
Caribbean Virgin Islands, Caribbean Leewards
(1 May - 14 December)
Caribbean Virgin Islands, Caribbean Leewards, Caribbean Windwards
| | | | | | | | | | | | | | | | | | | | | | | | | | | | | | | | |
| --- | --- | --- | --- | --- | --- | --- | --- | --- | --- | --- | --- | --- | --- | --- | --- | --- | --- | --- | --- | --- | --- | --- | --- | --- | --- | --- | --- | --- | --- | --- | --- |
| Apr 2019 | 1 | 2 | 3 | 4 | 5 | 6 | 7 | 8 | 9 | 10 | 11 | 12 | 13 | 14 | 15 | 16 | 17 | 18 | 19 | 20 | 21 | 22 | 23 | 24 | 25 | 26 | 27 | 28 | 29 | 30 | |
| May 2019 | 1 | 2 | 3 | 4 | 5 | 6 | 7 | 8 | 9 | 10 | 11 | 12 | 13 | 14 | 15 | 16 | 17 | 18 | 19 | 20 | 21 | 22 | 23 | 24 | 25 | 26 | 27 | 28 | 29 | 30 | 31 |
| Jun 2019 | 1 | 2 | 3 | 4 | 5 | 6 | 7 | 8 | 9 | 10 | 11 | 12 | 13 | 14 | 15 | 16 | 17 | 18 | 19 | 20 | 21 | 22 | 23 | 24 | 25 | 26 | 27 | 28 | 29 | 30 | |
| Jul 2019 | 1 | 2 | 3 | 4 | 5 | 6 | 7 | 8 | 9 | 10 | 11 | 12 | 13 | 14 | 15 | 16 | 17 | 18 | 19 | 20 | 21 | 22 | 23 | 24 | 25 | 26 | 27 | 28 | 29 | 30 | 31 |
| Aug 2019 | 1 | 2 | 3 | 4 | 5 | 6 | 7 | 8 | 9 | 10 | 11 | 12 | 13 | 14 | 15 | 16 | 17 | 18 | 19 | 20 | 21 | 22 | 23 | 24 | 25 | 26 | 27 | 28 | 29 | 30 | 31 |
| Sep 2019 | 1 | 2 | 3 | 4 | 5 | 6 | 7 | 8 | 9 | 10 | 11 | 12 | 13 | 14 | 15 | 16 | 17 | 18 | 19 | 20 | 21 | 22 | 23 | 24 | 25 | 26 | 27 | 28 | 29 | 30 | |
| Oct 2019 | 1 | 2 | 3 | 4 | 5 | 6 | 7 | 8 | 9 | 10 | 11 | 12 | 13 | 14 | 15 | 16 | 17 | 18 | 19 | 20 | 21 | 22 | 23 | 24 | 25 | 26 | 27 | 28 | 29 | 30 | 31 |
| Nov 2019 | 1 | 2 | 3 | 4 | 5 | 6 | 7 | 8 | 9 | 10 | 11 | 12 | 13 | 14 | 15 | 16 | 17 | 18 | 19 | 20 | 21 | 22 | 23 | 24 | 25 | 26 | 27 | 28 | 29 | 30 | |
| Dec 2019 | 1 | 2 | 3 | 4 | 5 | 6 | 7 | 8 | 9 | 10 | 11 | 12 | 13 | 14 | 15 | 16 | 17 | 18 | 19 | 20 | 21 | 22 | 23 | 24 | 25 | 26 | 27 | 28 | 29 | 30 | 31 |
| Jan 2020 | 1 | 2 | 3 | 4 | 5 | 6 | 7 | 8 | 9 | 10 | 11 | 12 | 13 | 14 | 15 | 16 | 17 | 18 | 19 | 20 | 21 | 22 | 23 | 24 | 25 | 26 | 27 | 28 | 29 | 30 | 31 |
| Feb 2020 | 1 | 2 | 3 | 4 | 5 | 6 | 7 | 8 | 9 | 10 | 11 | 12 | 13 | 14 | 15 | 16 | 17 | 18 | 19 | 20 | 21 | 22 | 23 | 24 | 25 | 26 | 27 | 28 | 29 | | |
| Mar 2020 | 1 | 2 | 3 | 4 | 5 | 6 | 7 | 8 | 9 | 10 | 11 | 12 | 13 | 14 | 15 | 16 | 17 | 18 | 19 | 20 | 21 | 22 | 23 | 24 | 25 | 26 | 27 | 28 | 29 | 30 | 31 |
---