E-Brochure
Luxury Yacht Vacation Details
BUILT/REFIT
YEAR
December 2017
---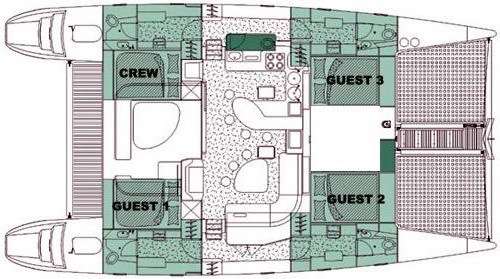 Boat Details
| | |
| --- | --- |
| Cabins: | 3 |
| Queen: | 3 |
| Single Cabins: | 1 |
| Showers: | 4 |
| Wash Basins: | 4 |
| Heads: | 4 |
| Electric Heads: | 4 |
Array ( [details] => Array ( [0] => Array ( [key] => Cabins [value] => 3 ) [1] => Array ( [key] => Queen [value] => 3 ) [2] => Array ( [key] => Single [value] => ) [3] => Array ( [key] => Showers [value] => 4 ) [4] => Array ( [key] => Wash Basins [value] => 4 ) [5] => Array ( [key] => Heads [value] => 4 ) [6] => Array ( [key] => Electric Heads [value] => 4 ) ) )
Pick Up Locations
| | |
| --- | --- |
| Pref. Pick-up: | St. Thomas, USVI |
| Other Pick-up: | West End |
---
Details
| | |
| --- | --- |
| Refit: | December 2017 |
| Helipad: | No |
| Jacuzzi: | No |
| A/C: | Full |
Engine Details
Northern Lights 6 kva, brand new engines and sail drives 2015
Fuel Consumption:
-
Cruising Speed:
6
Max Speed:
8 Knots
Locations
| | |
| --- | --- |
| Winter Area: | Caribbean Virgin Islands |
| Summer Area: | Caribbean Virgin Islands, Caribbean Leewards, Caribbean Windwards |
---
Amenities
| | |
| --- | --- |
| Salon Tv/VCR: | Yes |
| Salon Stereo: | Yes |
| Sat Tv: | On-board WiFi. Limited access in BVI until further notice. |
| # of Videos: | |
| # DVDs/Movies: | 850 |
| # CD's: | 100s |
| Camcorder: | No |
| Books: | Ebooks |
| Board Games: | Yes |
| Sun Awning: | Yes |
| Deck Shower: | Yes |
| Bimini: | Yes |
| Water Maker: | Yes |
| | |
| --- | --- |
| Special Diets: | Yes |
| Kosher: | No |
| BBQ: | Yes |
| # Dine In: | 6 |
| Minimum Age: | Water safe |
| Generator: | Northern Lights |
| Inverter: | Yes |
| Voltages: | 110V 12V |
| Water Maker: | Yes |
| Water Cap: | 800GPD |
| Ice Maker: | No |
| Sailing Instructions: | No |
| Internet Access: | Onboard WIFI |
| | |
| --- | --- |
| Gay Charters: | Yes |
| Nude: | Yes |
| Hairdryers: | Yes |
| # Port Hatches: | 20 |
| Guests Smokes: | Yes, sugar scoop |
| Crew Smokes: | No |
| Pets Aboard: | Yes |
| Pet Type: | YES, a ships cat LuLu, yacht will not board Lulu. |
| Guest Pets: | No |
| Children Ok: | Yes |
| Hammock: | Yes |
| Windscoops: | No |
---
Water Sports
| | |
| --- | --- |
| Dinghy size: | 14' |
| Dinghy hp: | 50 |
| Dinghy # pax: | 6 |
| Water Skis Adult: | No |
| Water Skis Kids: | No |
| Jet Skis: | No |
| Wave Runners: | No |
| Kneeboard: | Yes |
| Windsurfer: | No |
| Snorkel Gear: | Yes |
| Tube: | Yes |
| | |
| --- | --- |
| Scurfer: | No |
| Wake Board: | No |
| Kayaks 1 Pax: | No |
| Kayaks (2 Pax): | 1 |
| Floating Mats: | No |
| Swim Platform: | Yes |
| Boarding Ladder (Loc/Type): | 3 - 2 on sugar scoop, 1 on bow |
| Sailing Dinghy: | No |
| Beach Games: | Yes |
| Fishing Gear: | Yes |
| Gear Type: | trolling |
| Rods: | 3 |
Andre and Alison Stroebel are from South Africa and have been married for 32 years. They love the sea and are either on it, in it or under it. They started sailing together even before they were married and raced Hobie Cats as a hobby. Soon they started sailing larger catamarans off the unpredictable east and west coasts of South Africa. In 2011 they left South Africa on the Cape Town to Rio de Janeiro Yacht Race on their catamaran Rat Catcher, crossing the Atlantic and ending second in their class. Since then they have been cruising in the Caribbean and are excited to share their experiences with you. They are both qualified SSI Dive Masters.

Andre started his career as a helicopter pilot in the South African Air Force and after 25 years service started flying commercially doing offshore flights to the oil rigs off the Canadian east coast in Newfoundland. He has over 7000 flight hours. He also has over 25 000 sea miles accumulated off the South African coast, Atlantic crossing and sailing the Caribbean and east coast of Florida. He has a South African Sailing Yacht Master Offshore certificate with a 100 ton South African Maritime Safety Authority rating, STCW and First Aid.

Alison started sailing on Optimists in Zimbabwe and then crewed for her Dad on a Flying Dutchman. She knew she had found her true love when she discovered André also loved the sea and sailing. From when they first met they had a shared dream of sailing the world. Alison is a Registered Nurse and specialized in Neonatal premature babies and then in the Operating Room. She is qualified in Basic life Support, CPR and First Aid. She has her offshore Captains license and has over 20 000 sea miles having sailed the South African coast, crossed the Atlantic and sailed extensively in the Caribbean, Bahamas and the Florida coast. She loves being on, in or under the water and especially enjoys sharing her love of snorkeling and diving with new adventurers pointing out the amazing critters under water. Alison has a special affinity to children her best reference is the fact the little ones invariably climb in her lap and go to sleep. With their traveling Alison has incorporated a touch of different cultures in her menu. She loves creating dishes with a strong South African and African traditional food influence with a touch of Mediterranean. In true African tradition you won't go hungry at this table.

If you are interested in learning to sail a Catamaran Andre is always keen to show you the "ropes" and give you some sailing instruction.

With Andre and Alison's experience of the islands, love for the sea, South African hospitality, with lots of outdoor BBQ's (South African Braai's), they are ready to make your Caribbean charter dream come true.

The ships cat is Raglins Linda Lu (Named after Rolling Stones Song Linda Lu). Known as Lulu, she loves the boat and it completely relaxed. The Yacht is her home and she will be aboard for all charters!" Lulu is a Ragdoll breed.

****WE LOVE BABIES, BABIES WELCOME****
BREAKFAST
A fresh fruit platter, Fruit Juice, Tea and Coffee are served with breakfast every day.
Pancakes with maple syrup and bacon.
Eggs Benedict with Hollandaise Sauce and Sautéed Spinach
Egg, Bacon, Sausages, Mushrooms and Tomato with toast or fresh rolls
LUNCH
Lunch is served with your choice of soft drink, iced tea, beer or your favourite cocktail.
Spinach and Mushroom Crust less Quiche with seasonal salad.
Salmon Burgers with Sweet Potato wedges and tangy dill buttermilk dip
Chili Lime Chicken Salad with Avocado.
Braaibroodtjies (South African Cheese, Grilled Onion and Tomato Panini) and tomato salad
Savory Muffins with fresh sliced tomato ham and cheese
DINNER
Your choice of Wine, Beer or your favourite Cocktail to accompany your dinner.
Spicy Parmesan baked chicken on a bed of rice and seasonal Salad
Traditional South African Bobotie (Beef Bake) on savory yellow rice with sweet Peas
Garlic Shrimp with Peas and Linguine
Grilled Rib Eye Steak with Spinach, Mango, Avocado salad and Baked Potato.
Pork Tenderloin on a bed of Butternut with sautéed garlic beans
DESSERTS
Traditional South African Milk Tart
Delicious Baked sweet pudding with cream
Chocolate Mousse surprise
Strawberry Cream mousse topped with berries.
Lemon Posset
(15 December -30 April)
Caribbean Virgin Islands
(1 May - 14 December)
Caribbean Virgin Islands, Caribbean Leewards, Caribbean Windwards
| | | | | | | | | | | | | | | | | | | | | | | | | | | | | | | | |
| --- | --- | --- | --- | --- | --- | --- | --- | --- | --- | --- | --- | --- | --- | --- | --- | --- | --- | --- | --- | --- | --- | --- | --- | --- | --- | --- | --- | --- | --- | --- | --- |
| Aug 2019 | 1 | 2 | 3 | 4 | 5 | 6 | 7 | 8 | 9 | 10 | 11 | 12 | 13 | 14 | 15 | 16 | 17 | 18 | 19 | 20 | 21 | 22 | 23 | 24 | 25 | 26 | 27 | 28 | 29 | 30 | 31 |
| Sep 2019 | 1 | 2 | 3 | 4 | 5 | 6 | 7 | 8 | 9 | 10 | 11 | 12 | 13 | 14 | 15 | 16 | 17 | 18 | 19 | 20 | 21 | 22 | 23 | 24 | 25 | 26 | 27 | 28 | 29 | 30 | |
| Oct 2019 | 1 | 2 | 3 | 4 | 5 | 6 | 7 | 8 | 9 | 10 | 11 | 12 | 13 | 14 | 15 | 16 | 17 | 18 | 19 | 20 | 21 | 22 | 23 | 24 | 25 | 26 | 27 | 28 | 29 | 30 | 31 |
| Nov 2019 | 1 | 2 | 3 | 4 | 5 | 6 | 7 | 8 | 9 | 10 | 11 | 12 | 13 | 14 | 15 | 16 | 17 | 18 | 19 | 20 | 21 | 22 | 23 | 24 | 25 | 26 | 27 | 28 | 29 | 30 | |
| Dec 2019 | 1 | 2 | 3 | 4 | 5 | 6 | 7 | 8 | 9 | 10 | 11 | 12 | 13 | 14 | 15 | 16 | 17 | 18 | 19 | 20 | 21 | 22 | 23 | 24 | 25 | 26 | 27 | 28 | 29 | 30 | 31 |
| Jan 2020 | 1 | 2 | 3 | 4 | 5 | 6 | 7 | 8 | 9 | 10 | 11 | 12 | 13 | 14 | 15 | 16 | 17 | 18 | 19 | 20 | 21 | 22 | 23 | 24 | 25 | 26 | 27 | 28 | 29 | 30 | 31 |
| Feb 2020 | 1 | 2 | 3 | 4 | 5 | 6 | 7 | 8 | 9 | 10 | 11 | 12 | 13 | 14 | 15 | 16 | 17 | 18 | 19 | 20 | 21 | 22 | 23 | 24 | 25 | 26 | 27 | 28 | 29 | | |
| Mar 2020 | 1 | 2 | 3 | 4 | 5 | 6 | 7 | 8 | 9 | 10 | 11 | 12 | 13 | 14 | 15 | 16 | 17 | 18 | 19 | 20 | 21 | 22 | 23 | 24 | 25 | 26 | 27 | 28 | 29 | 30 | 31 |
| Apr 2020 | 1 | 2 | 3 | 4 | 5 | 6 | 7 | 8 | 9 | 10 | 11 | 12 | 13 | 14 | 15 | 16 | 17 | 18 | 19 | 20 | 21 | 22 | 23 | 24 | 25 | 26 | 27 | 28 | 29 | 30 | |
| May 2020 | 1 | 2 | 3 | 4 | 5 | 6 | 7 | 8 | 9 | 10 | 11 | 12 | 13 | 14 | 15 | 16 | 17 | 18 | 19 | 20 | 21 | 22 | 23 | 24 | 25 | 26 | 27 | 28 | 29 | 30 | 31 |
| Jun 2020 | 1 | 2 | 3 | 4 | 5 | 6 | 7 | 8 | 9 | 10 | 11 | 12 | 13 | 14 | 15 | 16 | 17 | 18 | 19 | 20 | 21 | 22 | 23 | 24 | 25 | 26 | 27 | 28 | 29 | 30 | |
| Jul 2020 | 1 | 2 | 3 | 4 | 5 | 6 | 7 | 8 | 9 | 10 | 11 | 12 | 13 | 14 | 15 | 16 | 17 | 18 | 19 | 20 | 21 | 22 | 23 | 24 | 25 | 26 | 27 | 28 | 29 | 30 | 31 |
---