E-Brochure
Luxury Yacht Vacation Details
---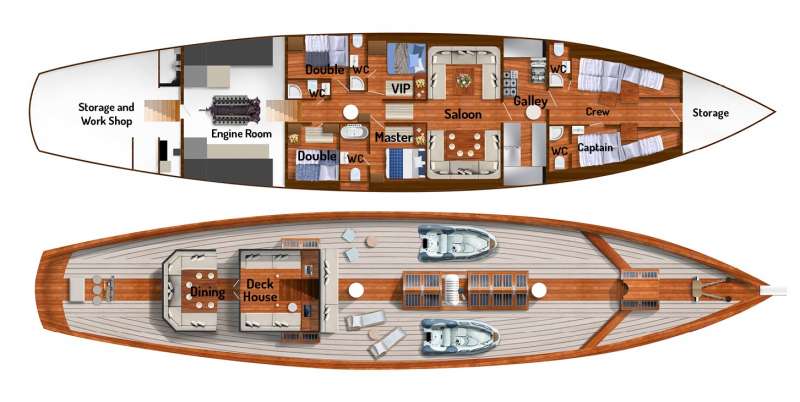 Boat Details
| | |
| --- | --- |
| Cabins: | 4 |
| Queen: | 1 |
| Single Cabins: | 1 |
| Showers: | 3 |
| Wash Basins: | 3 |
| Heads: | 3 |
| Electric Heads: | 3 |
Array ( [details] => Array ( [0] => Array ( [key] => Cabins [value] => 4 ) [1] => Array ( [key] => Queen [value] => 1 ) [2] => Array ( [key] => Single [value] => ) [3] => Array ( [key] => Showers [value] => 3 ) [4] => Array ( [key] => Wash Basins [value] => 3 ) [5] => Array ( [key] => Heads [value] => 3 ) [6] => Array ( [key] => Electric Heads [value] => 3 ) ) )
Pick Up Locations
| | |
| --- | --- |
| Pref. Pick-up: | - |
| Other Pick-up: | - |
---
Details
| | |
| --- | --- |
| Refit: | 2016 |
| Helipad: | No |
| Jacuzzi: | No |
| A/C: | Full |
Engine Details
Main Engine: 350 hp General Motors Generators: 24 kw Northern Lights, 12 kw Northern Lights
Fuel Consumption:
8
Cruising Speed:
9 k
Max Speed:
11 k Knots
Locations
| | |
| --- | --- |
| Winter Area: | Caribbean Virgin Islands, Caribbean Leewards, Caribbean Windwards |
| Summer Area: | New England |
---
Amenities
| | |
| --- | --- |
| Salon Tv/VCR: | Yes |
| Salon Stereo: | Yes |
| Sat Tv: | - |
| # of Videos: | |
| # DVDs/Movies: | - |
| # CD's: | - |
| Camcorder: | - |
| Books: | - |
| Board Games: | - |
| Sun Awning: | Yes |
| Deck Shower: | Yes |
| Bimini: | Yes |
| Water Maker: | - |
| | |
| --- | --- |
| Special Diets: | Yes |
| Kosher: | Yes |
| BBQ: | Yes |
| # Dine In: | 8 |
| Minimum Age: | - |
| Generator: | 2 |
| Inverter: | Yes |
| Voltages: | 110 |
| Water Maker: | - |
| Water Cap: | - |
| Ice Maker: | Yes |
| Sailing Instructions: | - |
| Internet Access: | Onboard WIFI |
| | |
| --- | --- |
| Gay Charters: | Yes |
| Nude: | Yes |
| Hairdryers: | Yes |
| # Port Hatches: | 2 |
| Guests Smokes: | On Deck |
| Crew Smokes: | No |
| Pets Aboard: | No |
| Pet Type: | - |
| Guest Pets: | - |
| Children Ok: | Yes |
| Hammock: | Yes |
| Windscoops: | - |
---
Water Sports
| | |
| --- | --- |
| Dinghy size: | Zodiac Yachtline 470 |
| Dinghy hp: | 90 |
| Dinghy # pax: | 11 |
| Water Skis Adult: | Yes |
| Water Skis Kids: | Yes |
| Jet Skis: | - |
| Wave Runners: | - |
| Kneeboard: | - |
| Windsurfer: | - |
| Snorkel Gear: | Yes |
| Tube: | Yes |
| | |
| --- | --- |
| Scurfer: | Yes |
| Wake Board: | 1 |
| Kayaks 1 Pax: | No |
| Kayaks (2 Pax): | 1 |
| Floating Mats: | Yes |
| Swim Platform: | - |
| Boarding Ladder (Loc/Type): | 2 |
| Sailing Dinghy: | - |
| Beach Games: | Yes |
| Fishing Gear: | Yes |
| Gear Type: | Light |
| Rods: | - |
Your EROS charter crew includes our Captain, Chef, First Mate, Steward, and Deckhand. All crew members are licensed full-time professionals, certified by the U.S. Coast Guard. Their love for sailing is matched by their steadfast commitment to your safety and comfort.

Justin Bernhart, Captain

Justin Bernhart is a licensed captain with an extensive background in marine safety and charter, as well as tall ship and motor yacht handling. He is a veteran of the U.S. Coast Guard, with experience in search and rescue, and a graduate of the Northwest School of Wooden Boatbuilding. He has spent years building and restoring wooden boats on the east and west coasts of North America. He is an experienced offshore sailor and deliveryman, and has been at the helm of various charter and privately-owned vessels, from the 103-foot gaff-rigged AURORA to a 12-meter racing sloop and a 112-foot Westport motor yacht. His credentials include a 500-ton USCG license, advanced firefighting, medical care, and rescue. He is adept at crew training, supervision, and all aspects of yacht management.

Aimee O'Neil, Deckhand/Stewardess

Aimee grew up on the local waters of New England. From an early age she developed a deep love for the ocean. With past experiences in surf instruction, surf rescue, this surfer gone sailor is at home on the water. Her sailing experience began as a child on her father's boat and working as a deckhand aboard 12 Meter "Heritage". Her interests also include free diving and astrology. During your time aboard Eros, Aimee will make you feel right at home. Her years of experience in the restaurant and hospitality industries and knowledge on deck allow her to deliver a 5-star experience no matter what. She is ecstatic to serve on Eros where she combines all of her passions in one place.


The following dishes are representative of the choices you will be offered aboard EROS. Keep in mind that your preferences will always be taken into account and actual dishes will depend on availability of ingredients in the islands visited. Our talented chef can usually meet your wishes!
BREAKFASTS
French Toast made from bread baked aboard
Omelets to order
Fresh fruits with the option of yogurts and cereal
Side offerings of bacon, sausage and ham
Eggs Benedict
Freshly baked bread
Coffee, tea, juice
LUNCHES
Roasted Butternut Squash with sausage, apple, shallot, garbanzo stuffing
Salad Nicoise (using freshly caught tuna when we're lucky)
Caesar Salad with Roasted Capers and Grilled Chicken
Turkey Pozole served with lettuce, avocado, radish salad and Corn Muffins
Chile-Rubbed Chicken Fajitas with Sizzlin' San Antonio Veggies
Hawaiian Pork Stir Fry served in a Pinapple Boat
DINNERS – MAIN COURSES
Tournedos with Roasted Pepper Sauce and Avocado Butter
Tropical Citrus Game Hens served with Rice and Zucchini
Baked Shrimp with New Orleans Remoulade Sauce and French Potato Salad
DESSERTS
Key Lime Pie
Chocolate Fudge Cake with Vanilla Ice Cream
Banana Beach Shortcake
Cold Amaretto Souffle
Fresh Fruit Tart With Whipped Cream

Additionally, children-friendly menus, late night snacks, vegetarian options and special needs diets can be met.
(15 December -30 April)
Caribbean Virgin Islands, Caribbean Leewards, Caribbean Windwards
(1 May - 14 December)
New England
| | | | | | | | | | | | | | | | | | | | | | | | | | | | | | | | |
| --- | --- | --- | --- | --- | --- | --- | --- | --- | --- | --- | --- | --- | --- | --- | --- | --- | --- | --- | --- | --- | --- | --- | --- | --- | --- | --- | --- | --- | --- | --- | --- |
| Aug 2019 | 1 | 2 | 3 | 4 | 5 | 6 | 7 | 8 | 9 | 10 | 11 | 12 | 13 | 14 | 15 | 16 | 17 | 18 | 19 | 20 | 21 | 22 | 23 | 24 | 25 | 26 | 27 | 28 | 29 | 30 | 31 |
| Sep 2019 | 1 | 2 | 3 | 4 | 5 | 6 | 7 | 8 | 9 | 10 | 11 | 12 | 13 | 14 | 15 | 16 | 17 | 18 | 19 | 20 | 21 | 22 | 23 | 24 | 25 | 26 | 27 | 28 | 29 | 30 | |
| Oct 2019 | 1 | 2 | 3 | 4 | 5 | 6 | 7 | 8 | 9 | 10 | 11 | 12 | 13 | 14 | 15 | 16 | 17 | 18 | 19 | 20 | 21 | 22 | 23 | 24 | 25 | 26 | 27 | 28 | 29 | 30 | 31 |
| Nov 2019 | 1 | 2 | 3 | 4 | 5 | 6 | 7 | 8 | 9 | 10 | 11 | 12 | 13 | 14 | 15 | 16 | 17 | 18 | 19 | 20 | 21 | 22 | 23 | 24 | 25 | 26 | 27 | 28 | 29 | 30 | |
| Dec 2019 | 1 | 2 | 3 | 4 | 5 | 6 | 7 | 8 | 9 | 10 | 11 | 12 | 13 | 14 | 15 | 16 | 17 | 18 | 19 | 20 | 21 | 22 | 23 | 24 | 25 | 26 | 27 | 28 | 29 | 30 | 31 |
| Jan 2020 | 1 | 2 | 3 | 4 | 5 | 6 | 7 | 8 | 9 | 10 | 11 | 12 | 13 | 14 | 15 | 16 | 17 | 18 | 19 | 20 | 21 | 22 | 23 | 24 | 25 | 26 | 27 | 28 | 29 | 30 | 31 |
| Feb 2020 | 1 | 2 | 3 | 4 | 5 | 6 | 7 | 8 | 9 | 10 | 11 | 12 | 13 | 14 | 15 | 16 | 17 | 18 | 19 | 20 | 21 | 22 | 23 | 24 | 25 | 26 | 27 | 28 | 29 | | |
| Mar 2020 | 1 | 2 | 3 | 4 | 5 | 6 | 7 | 8 | 9 | 10 | 11 | 12 | 13 | 14 | 15 | 16 | 17 | 18 | 19 | 20 | 21 | 22 | 23 | 24 | 25 | 26 | 27 | 28 | 29 | 30 | 31 |
| Apr 2020 | 1 | 2 | 3 | 4 | 5 | 6 | 7 | 8 | 9 | 10 | 11 | 12 | 13 | 14 | 15 | 16 | 17 | 18 | 19 | 20 | 21 | 22 | 23 | 24 | 25 | 26 | 27 | 28 | 29 | 30 | |
| May 2020 | 1 | 2 | 3 | 4 | 5 | 6 | 7 | 8 | 9 | 10 | 11 | 12 | 13 | 14 | 15 | 16 | 17 | 18 | 19 | 20 | 21 | 22 | 23 | 24 | 25 | 26 | 27 | 28 | 29 | 30 | 31 |
| Jun 2020 | 1 | 2 | 3 | 4 | 5 | 6 | 7 | 8 | 9 | 10 | 11 | 12 | 13 | 14 | 15 | 16 | 17 | 18 | 19 | 20 | 21 | 22 | 23 | 24 | 25 | 26 | 27 | 28 | 29 | 30 | |
| Jul 2020 | 1 | 2 | 3 | 4 | 5 | 6 | 7 | 8 | 9 | 10 | 11 | 12 | 13 | 14 | 15 | 16 | 17 | 18 | 19 | 20 | 21 | 22 | 23 | 24 | 25 | 26 | 27 | 28 | 29 | 30 | 31 |
---